DJ Shiftee For President
It's no secret here that we are unabashed fans of DJ Shiftee, the current DMC World Champ. Shiftee is one of the few turntablists out there that is not afraid to bring his own unique personality, style and humor to the art of DJing.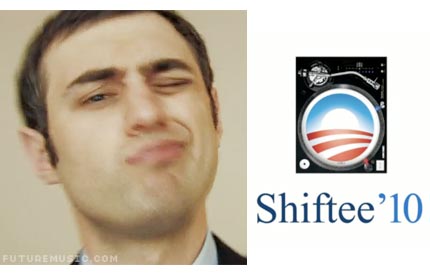 DJ Shiftee has embraced YouTube for a variety of fun How To videos – often involving food – but now he is utilizing the medium to campaign for Shiftee In 2010, a tongue-in-cheek, campaign love letter to himself.
Shiftee gets definite points for scratchin' in a suit, but some deductions for poor art direction (do we really need to see your Post-It Notes and bag lunch?). However, the man certainly has our vote for bringing technology, skill, and most of all, fun back into the art of DJing.
Vote for DJ Shiftee! More information on DJ Shiftee.