Laurie Nicoll Unveils SHamp – New Onboard Acoustic Guitar Amp
Laurie Nicoll has unveiled the SHamp, an onboard, compact amplifier that fits into the sound hole of your acoustic guitar to boost the volume. Easily installed, a cable connects SHamp to your pickup jack to give your acoustic music "punch" that is missing in acoustic environments. SHamp produces enough power to give your performance the presence it deserves.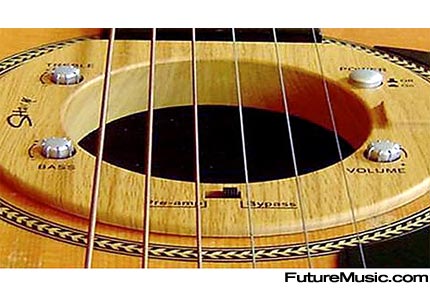 No modification to the guitar is required. It will fit most circular sound holes 96mm (3¾") – 102mm (4") in most guitars and weighs only 250g (8 oz). However, the fitted guitar must contain a bridge type pickup, with or without a pre-amp. SHamp has built in pre-amp /by pass modes and can be used in either mode.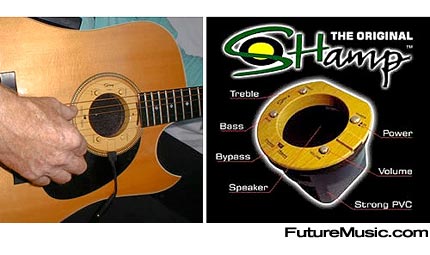 SHamp features a specially-designed speaker and 4 watt amplifier that fits neatly into the sound hole. SHamp is powered by a strap/belt mounted 18 volt battery pack that is attached to SHamp via the SHamp input. You'll get up to 6 hours of continuous playing on a single set of good quality alkaline batteries.
SHamp does not interfere with your guitar's natural sound. It's designed to let the sound flow around the speaker.
Features:
» On/Off switch
» 75mm (3 inch) speaker
» 4 watt amplifier
» Volume/EQ controls
» 18v battery pack
» Weight 250g (8oz)
» Depth 90 mm (3½ inches), Diameter 95mm (3¾ inches)
The SHamp costs A$299 and is available now. More information on the SHamp.