Grace Premiers Tuner – Wireless Radio & Media Player
Grace Digital has debuted the Tuner Wireless Radio & Media Player, a new addition to their line of internet radios. Simply plug it into your current home stereo system and gain access to 30,000 internet radio stations, podcast and on demand Wi-Fi radio content. Like all Grace Digital internet radios, Tuner supports a variety of services including Pandora Radio, NPR on-demand, iheartradio, and SIRIUS.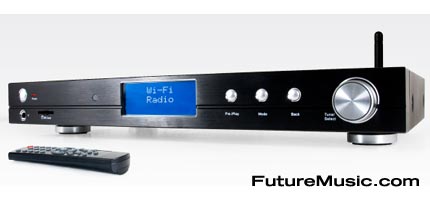 By connecting directly to your home stereo system the Tuner Wi-Fi Radio & Media Player provides superior sound quality and access to internet radio stations and services from all over the world. With a built-in Ethernet jack and a true 802.11g wireless connectivity, set up is quick and easy. The Tuner's stand-width design appears to be just another component in your current home audio setup. The Tuner can dial in Reciva, iheartradio, CBS Radio, Pandora, Premium SIRIUS Internet radio, Live365, MP3tunes, NOAA, and NPR. Users can also wirelessly stream their personal collection direct from their PC or Mac to their home stereo. The Tuner comes equipped with a full function remote control or download the Grace Digital Audio Remote Control App to control one or more of your Grace Digital internet radios from your iPhone, iPad and/or iPod Touch.
Grace's Tuner is available no for $219.99. More information on the Grace Digital Tuner Wi-Fi Radio & Media Player.