Novation Rolls The Dicer
Novation has premiered a new Cue Point Controller for Serato Scratch Live, dubbed Dicer. The name originates from the "dice" number metaphor on the buttons, and obviously some ganga-fueled marketing sessions.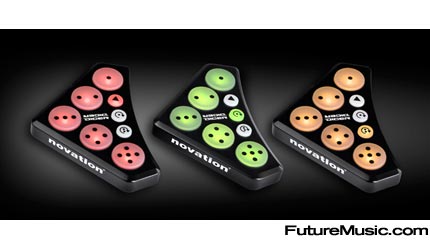 Interestingly enough, the Dicer was designed by Ean Golden, the boywonder of DJ Tech Tools, who pitched the concept to Novation a couple of years ago. The idea was hatched when Golden had a moment of clarity when he noticed that top Serato DJs were not incorporating Cue point juggling and looping into their sets. He even thought of how to "mount" the Dicer's to 1200s by utlizing the 45 adapter hole. Savvy!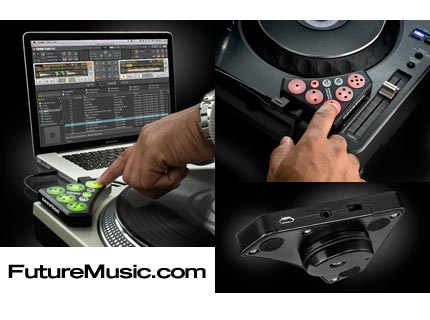 Dicer provides compact Cue Point and Looping control for the digital DJ. Dicer is plug and play – there are no drivers to install and no setup required. All your favourite Serato cueing and looping functions have been pre-programmed by Serato themselves. Just load up Serato Scratch Live, plug in your Dicers and you're ready to roll. For the more advanced Serato Scratch user, 20 extra functions can be assigned however you like; triggering samples for example.
Each Dicer features five 'dice' buttons that hook into cue point and looping control within Serato Scratch Live. You can jump between three performance modes at the touch of a button. The first of these is Hot Cues. Each of the five triggers can be quickly set to different cue points in the track, ready to be triggered at will.
Dicer is also ready to control Serato's 'Auto Loop' and 'Loop Roll' functions. In Auto Loop, the five 'dice' buttons are assigned to loops of varying lengths to be activated during playback. Loop Roll takes control of repeatedly halving the loop length, with five steps assigned to the five buttons, from 1 beat down to 1/16 of a beat, delivering the ubiquitous 'stutter roll' effect so popular with today's digital DJs. Default loop lengths provide a great starting point, but of course, each of Dicer's five buttons can be set to have any length available.
Dicer is also fully MIDI assignable. The five dicer buttons combine with the three smaller mode buttons and a shift feature to provide up to 60 functions from a pair of Dicers. These can be assigned to work however you want them to, within almost any DJ software, including Traktor Scratch Pro. They can also be used to control a standalone sampler, trigger drum software, or even browse through your playlist.
Dicers come in pairs and work over a single USB port, with a mini jack cable to transmit data and power between them, providing dedicated control for each deck over a single L-shaped micro USB cable connected to the computer. If you're not using Technics, Dicer's 45-adapter mounts also detach, and with Novation's reusable DJ putty, they can slot into even the most cramped of DJ performance set-ups, sticking directly onto CDJs, the mixer, your laptop, or anywhere you can think to put them.
Features:
» Performance buttons with visual feedback: Backlit multi-colour soft-touch 'dice' buttons, ideal for performing Cue point and looping functions, provide constant visual feedback of their status.
» Locks straight onto the Technics SL 1200 series, and similar decks: Using the 45-adapter hole, Dicer places looping control right on your decks.
» Working on CDJs and beyond: With Novation's reusable DJ putty, your Dicers can slot into even the most cramped of DJ performance set-ups, sticking cleanly and directly onto your CDJs, Mixer or Laptop.
» Default set-up for Serato Scratch Live: Dicer is pre-programmed to take advantage of the cue point and looping functions in Serato Scratch Live, including Hot Cues, Auto Roll and Loop Roll.
» Works with all major DJ software titles: Dicer is fully MIDI assignable, so it can be set up to control almost any software, including Tractor Scratch Pro. Up to 60 assignable MIDI are available from a pair of Dicers.
» USB bus-powered
Novation's Dicer costs $99 bucks and will be available sometime this month in your Grocer's Freezer. More information on Novation Dicer.