Zoom Announces H1 Handy Recorder
Zoom has announced the H1 Handy Recorder. The H1's two onboard microphones are configured in an X/Y pattern, for stereo imaging depth and clarity and delivers 24 bit / 96 kHz stereo recordings.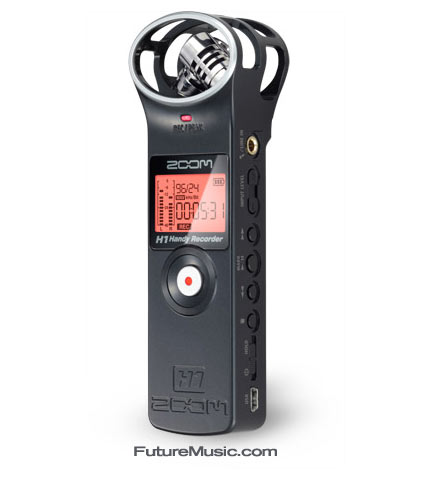 The H1 is the smallest Zoom recorder to date and sports a newly designed user interface that places all its functions at the touch of a button. Zoom included access to the track marker, auto record, low cut filter, level and volume controls with onboard buttons and no menus.
Features:
» Stereo X/Y mic configuration
» Same frequency and SPL handling as Zoom H2
» Records WAV 96kHz/48kHz/44.1kHz at 16-bit or 24-bit
» Records MP3 from 48 to 320kbps for maximum recording time
» USB 2.0 port and integrated reference speaker built-in
» One AA size (LR6) battery – 10 hours operation
» Includes 2GB microSD memory card and AA battery
» Accommodates up to 32GB microSD memory cards
» Auto record level setting
» Track marker function
» Low cut filter
» 1/8" external mic input
» Stereo 1/8" line output
» Built-in mounting joint for tripod and mic stand mounting
The H1 can accommodate up to 32GB microSDHC memory cards, providing over 50 hours of recording time. The new pocket sized recorder is powered by a single AA size battery, which Zoom claims can provide up to 10 hours of continuous operation.
The Zoom H1 Handy Recorder will be available on July 30 for $99. H1 users can purchase an H1 accessory kit for $24.99, which includes a windscreen, AC adapter (USB type), USB cable, adjustable tripod stand, soft carrying pouch and mic clip adapter. More information on the Zoom H1.