NUGEN Audio Unveils Monofilter 4 – Bass Enhancement Plug-In For Mac & PC
NUGEN Audio has released the 4th generation of their bass enhancement and control plug-in, Monofilter.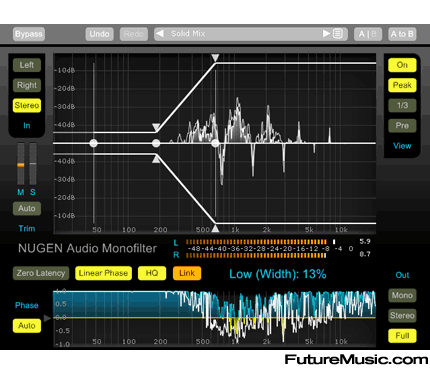 Monofilter is a mastering quality stereo and phase alignment tool designed to secure low frequencies solidly within your mix. Intuitive controls allow you to quickly anchor the power, whilst retaining the essential character and perceived spatial characteristics.
Monofilter brings back the center of your bass, so easily lost through stereo effects processing, synth sound generation, unwanted phase inconsistencies and live recording microphone bleed. The Monofilter's features now give you control over stereo spread, transition and phase alignment, and the unique interface gives you clear and exacting visual feedback.
Monofilter allows you to align and balance low frequencies with the minimum of effort, leaving you with the same sound, yet louder, more focussed and better defined.
Enhancements:
» New zero latency mode
» New High Pass filter
» Redesigned intuitive interface
» Comprehensive audio analysis
» Precise low end phase alignment
» Comprehensive presets
» Full algorithm linking
Features:
» Mastering Quality Processing
» Linear phase Monofiltering
» Precise low end phase alignment
» 'Auto' level trim and phase control
» Linear phase High Pass filter
» Multiple output modes
» Clear band limited operation
» Advanced intuitive GUI
— Stereo real-time audio analysis
— Real-time correlation by frequency analysis
— Click-and-drag stereo width envelope
Nugen's Monofilter 4 costs $119 and is available now. A free demo is available and upgrade options are available for existing users. More information on Nugen Monofilter 4.