Mackie Debuts 2404-VLZ3 & 3204-VLZ3 Analog Consoles
Mackie has announced two new mid-format analog consoles, the 24-channel 2404-VLZ3 and 32-channel 3204-VLZ3. Each feature dual internal FX processors, dedicated compression and 4-track recording via USB.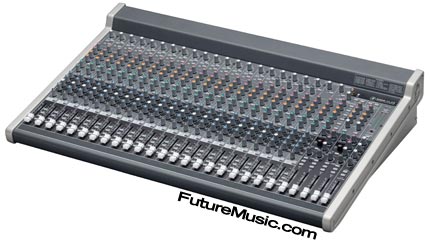 The Mackie 2404-VLZ3 and 3204-VLZ3 feature low-noise, high-headroom XDR2 mic channels (20 and 28, respectively) and two dedicated channels for stereo inputs. Inline compression is available on each of the four subgroups and on four select channels. Dual 32-bit RMFX effects processors offer 16 extremely useable presets, including tap delay. The integrated 4×2 USB interface offers multiple routing options to a DAW, with a convenient stereo return that's assignable to the mains for background music or into a channel strip for mix integration. With the smallest footprint in their class and legendary Mackie rugged design, VLZ3 4-Bus mixers are perfect for often cramped FOH areas or portable applications.
The Mackie VLZ3 4-Bus Series FX Mixers with USB will be available worldwide sometime in July 2010. The 2404-VLZ3 costs $1349.99 and the 3204-VLZ3 will be $1,699.99. More information on the new Mackie VLZ3 4-Bus Series.