Pioneer Releases Rekordbox – Music Management System
Pioneer announced that rekordbox, the digital music management software developed in partnership with MixVibes, is now available for free to all DJ's.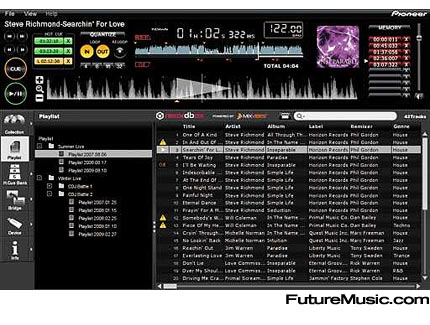 Rekordbox allows DJ's to organize and catalog their music library as it automatically analyzes the track data and prepares them for use with its new Pioneer CDJ turntables from the moment they are imported.
This comes as welcome news to club DJ's who might not currently own the players, but can maximize the software to prepare their mix ahead of their gig, and be ready to play on the CDJ-900s or CDJ-2000s at the event.
Features:
» Beats Per Minute (BPM) Data – BPM / Tempo information for each song is identified and processed into rekordbox
» Waveform Data – The waveform of each song is identified and then displayed on the bottom screen for quick data visualization and for use with the needle search function on the CDJ-2000 turntable.
» Tag Info and Artwork – Edit and customize the file information to performance needs.
» Hot Cues, Cue Points, and Loops – Prepare and customize cues and loops as well as create and manage hot cue banks.
» Playlists – Create, edit and manage customized playlists for various performances.
» Beatgrid – Utilizing the new Quantizing feature, cue points and loops can be set perfectly on-beat.
Pioneer's rekordbox will also be included with the new professional CDJ-350 model, which will bow sometime in June.
More information on Pioneer rekordbox. Download Pioneer rekordbox.