Analogue Solutions Announce Tereshkova Analog Modular Synth
Tom Carpenter the mad scientist behind Analogue Solutions has announced a new modular synth to add to his family of tweaky bits of kit. The Tereshkova is based on the Vostok with an extra LFO, two VCAs and two Multiples. Unfortunately, we can't tell you much more because poor Tom doesn't have much time to devote to his 1971 era website, let alone register his own domain name. However, he did manage to take this picture of the new suitcase synth.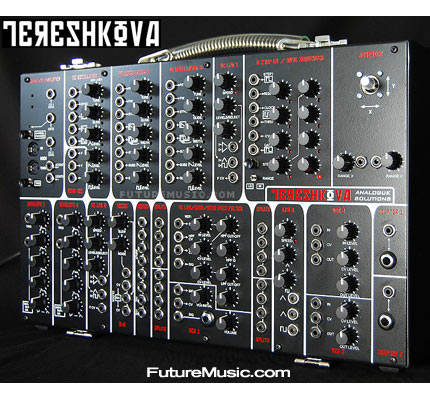 Features:
» Suitcase style design
» Pure analog voice circuitry
» Steel construction. Chrome catches and steel spring handle
» Joystick, MIDI, jack socket patch points
Analogue Solutions Tereshkova costs £1549 and is available now. More, er, ahem, information on the Analogue Solutions Tereshkova.