PowerFX Debuts AudioLocker Online Storage Utility
PowerFX has released AudioLocker, a desktop application that allows you to store your files in your own account in the Soundation cloud. AudioLocker is meant to complement their online music production entity, Soundation Studio.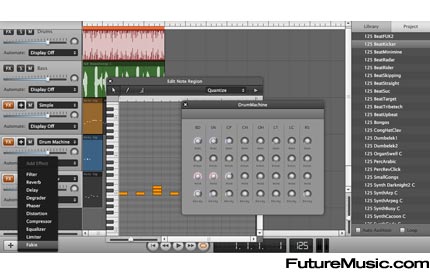 PowerFX claims that Soundation Studio is a powerful online sequencer with 11 real time effects, 3 synthesizers, a drum machine and a fully integrated Sound Shop. However, when you click on the "Studio" button on their website, you just get a blank page. (Marketing girls, Marketing!! —Ed.)
AudioLocker is a simple drag 'n' drop program, easily allowing uploads, downloads, delete, folder creation and integration all within Soundation Studio. AudioLocker also receives and stores any purchases made from the Soundation Sound Shop, so those sounds are always available and always backed up.
Currently there are 3 versions of AudioLocker:
» Intro, a 100MB account for $19 a year
» Basic 2 GB account for $49 a year or $4.99 per month
» Power User 5 GB account for $99 a year or $9.99 per month, which includes 20 sound sets (over 400 additional loops) preloaded in your AudioLocker as a bonus
Not having a free "entry level" version of Audio Locker is definitely a miss. In reality, the 100MB version should be free since that's not much storage in today's terms, and $19 bucks is a little spendy for what amounts to be a fancy-pants FTP utility.
More information on PowerFX AudioLocker.