Bang & Olufsen Debuts Aesthetic New Subwoofer
Bang & Olufsen has announced the BeoLab 11, a new subwoofer that combines bass performance, dynamic design and unorthodox placement possibilities. The BeoLab 11 is a new small subwoofer with a sculptural presence that B&O claims is "easy to integrate in a home environment without turning the room into a sound studio." (Or having a big vibrating cube in the middle of the room. —Ed.)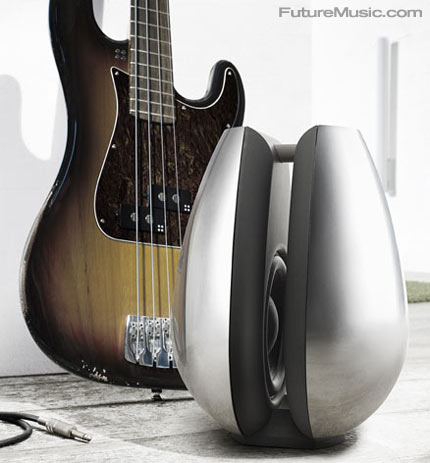 The unique acoustic design of BeoLab 11 allows it to be placed on the floor, in a corner, or mounted on the wall. In fact, due to its minimal vibrations, it is one of the very few subwoofers in the world that can be mounted on a wall.
Bang & Olufsen claims the BeoLab 11 offers a frequency response from 300 Hz and down. It is composed of two identical loudspeaker cabinets, with baffles facing each other. The outer shells are made of aluminium and are available in silver and white. The concept is based on two 6.5″ drivers with electronics making BeoLab 11 fully active and suited for both Bang & Olufsen systems, as well as third party applications.
Due to the omni-directional properties of the bass, the performance is not dependent upon orientation; therefore the unit can be 'rotated' as desired when positioned on the floor, or even hung on a wall.
No pricing or availability has been announced. More information on the Bang & Olufsen BeoLab 11.