Abbey Road Plug-Ins Releases RS124 Compressor Plug-In For Mac & PC
Abbey Road Plug-ins has released the RS124 Compressor Plug-in, an emulation of three original RS124 hardware units from Abbey Road's outboard collection for Mac and PC.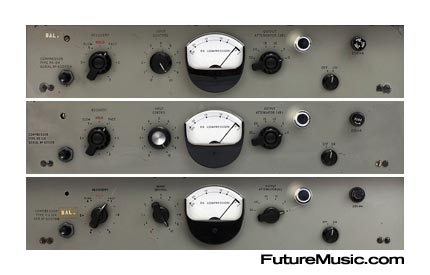 The original RS124 valve compressors were introduced in 1960 and were in constant use at the studios throughout the decade. Their warm, creamy sonic personality and unique features made them the compressor of choice for recording, mixing and mastering. This is a key part of the distinctive sound of Abbey Road Studios and each unit was hand-built and exclusive to this famed recording facility.
Features:
» Three authentic compressor models based on vintage Abbey Road units
» Each model recreates the sound and behaviour of the hardware unit
» Authentic replication visually and sonically of the original hardware
» Tested and approved by Abbey Road Studios' Director of Engineering, Peter Cobbin
» Added SuperFuse mode for more aggressive compression effect
» Dedicated LCR version allowing Pro Tools HD users to 'stack' all three units on top of one another
The RS124 Compressor Plug-in modeled three of the best units from the Abbey Road collection using the original hardware and schematics with extensive listening tests taking place at Abbey Road under the guidance of Abbey Road's Director of Engineering, Peter Cobbin. Both sonically and visually, the the concern claims the plug-in provides accurate software emulations of the original units, faithfully recreating their behavior and subtle sonic character.
Abbey Road has also created one of the world's first dedicated Dynamics LCR plug-in, providing depth and versatility to the RS124 Compressor Plug-in experience by allowing users to stack all three units on top of one another. In addition to all the functions found on the original units, users can enjoy a new surprise feature. This extra function is wonderfully brutal and guaranteed to make your drums jump out of the speakers!
The Abbey Road Plug-Ins' RS124 Compressor Plug-in is available for $560.00 (TDM) or $335.00 (Native). An iLok USB key is required. More information on Abbey Road Plug-Ins RS124 Compressor Plug-in (say that three times fast! —Ed.)