Euphonix Upgrades MC Control To Version 2
Euphonix has announced an update to their MC Control media controller. The MC Control v2 features the same ergonomic layout and slim line design as the original MC Control, but offers enhanced graphics thanks to a new LED-backlit touch-screen and even better tactile control of parameters via eight new custom rotary encoders.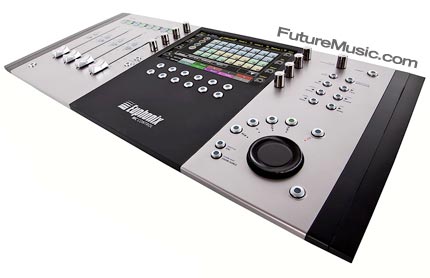 At the heart of MC Control v2 is a new high-resolution 800 x 480 pixel LED-backlit touch-screen interface that offers a wide viewing angle, bright graphics and color consistency. The touch-screen not only displays all top-level project information like track names, metering (from mono to 5.1 surround data), automation mode, fader/pan values, etc., but also allows the user to solo/mute/record arm tracks, trigger Soft Keys, perform surround panning, and much more directly from the surface.
MC Control v2 features EuCon, a high-speed control protocol developed by Euphonix that enables simultaneous control of multiple applications and even workstations over an Ethernet cable at 250 times the speed and eight times the resolution of MIDI. EuCon automatically detects whatever application is in the foreground and instantly sets all controls and high-resolution touch-screen display to match.
Soft keys are one of MC Control v2's most powerful features to speed up workflow, instantly updating when switching between applications and providing quick access to the most used functions. MC Control v2 ships with comprehensive Soft Key sets for most media applications, and custom Soft Keys can easily be created for almost any function from basic keystroke shortcuts to complex macro commands for each application.
Surrounding the touch-screen, MC Control v2 features eight new touch-sensitive rotary encoders that offer direct control over everything from panning and gain to editing plug-in and EQ parameters, and can be pressed to instantiate and navigate through parameters. MC Control v2's ergonomic layout includes dedicated transport controls as well as a data entry wheel that can be assigned on the fly to control everything from basic jog/shuttle navigation and zooming to a host of advanced editing functions. Four touch-sensitive motorized faders round out the controls to deliver accurate and smooth mixing, and touching a fader automatically selects and controls the corresponding track. Like all Artist Series controllers, MC Control v2 easily integrates into any studio, fitting perfectly between a computer keyboard and screen, and can be used standalone or combined with other media controllers to build a larger, integrated media control surface.
Euphonix's MC Control v2 also supports the HUI and Mackie Control protocols for even greater flexibility, at a faster speed and higher resolution than any other controllers. MC Control v2 is expected to arrive at retailers sometime this month for close to $2000. More information on the Euphonix MC Control v2.