XILS-lab Releases PolyKB – RSF Synth Emulator
XILS-lab has released the PolyKB. The PolyKB is a recreation of a very rare, polyphonic synthesizer released in the 80's by the french company RSF. The RSF Kobol synthesizers were used by J.M Jarre, Hans Zimmer, Depeche Mode, Vince Clark, Vangelis, and many more.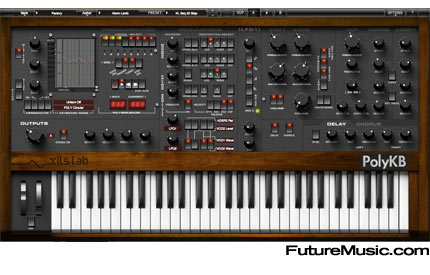 True to the original sound, the PolyKB is a subtractive synthesizer based on two waveform morphing, aliasing free oscillators and a self oscillating 4 poles low pass filter. The oscillators create a large part of the sound of this synthesizer with the help of of very complete modulation section and the filter recreating a standard analog chip of the 80's. Ranging from bass to a warm slowly evolving pad, through aggressive leads and thin crystal keyboards along with a huge range of special effects.
Features:
» Two waveform continuously modulated oscillators. A first for software synthesis and difficult to achieve without aliasing
» Very accurate 4-poles self oscillator filter featuring well known 80's filter chip
» Polyphonic sequencer and arpeggiator
» New stereo voice and modulation management
» VST, AudioUnit, RTAS, on Mac and PC
» More than 250 presets made by famous sound designers and artists
XILS-lab's PolyKB costs $199 / €149 / £129 and is available now. More information on the XILS-lab PolyKB.