Elektron Premiers Octatrack Super Sampler
Elektron has premiered the Octatrack, a sampler/sequencer that compliments the current Monomachine and Machinedrum products.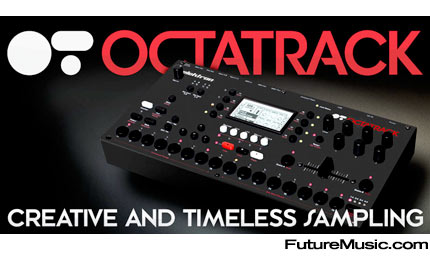 The Octatrack is an elegant sampler, but Elektron claims the fun really starts once the samples are inside the machine. Loops are now completely elastic. They will always stay in sync no matter if they are pitch shifted or if the tempo of the sequencer is changed. Single sounds can be molded into any shape or form.
Features:
» 8 stereo tracks
» 4 audio inputs
» 4 audio outputs
» Separate Headphone Output
» USB 2.0 port
» Compact Flash Card Reader
» Optical Fader
» Improved Elektron Sequencer
» Realtime pitch shift and time stretch
» Real Time Sampling
» 2 Effect blocks per track
The Compact Flash card compability allows for significant amounts of samples to be constantly accessible. The USB port is ideal when transfering sample libraries between your computer and the Octatrack. The optical fader can be assigned to any of the parameters, adding a wealth of live control possibilities.
Elektron hopes to have the Octatrack available for this year's Holiday shopping season. No pricing has been announced. More information on the Elektron Octatrack.