Allen & Heath Premier Xone:PB & XD-40 Headphones
Updated: Additional picture of back of unit
Allen & Heath has announced two new products, a new club installation product, the Xone:PB patchbay, and the XD-40 monitoring headphones.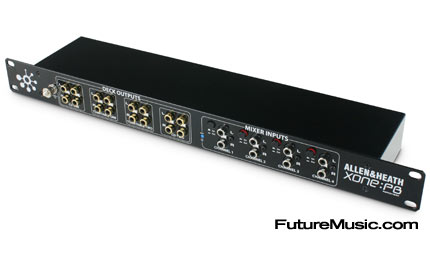 The Xone:PB patchbay is a 1U rack size, passive interface box, designed to simplify the task of connecting encoded vinyl replay systems to installed mixers without the need to re-patch, providing a quick and easy solution to set changes in busy club line ups.

The outputs from up to four audio sources and the inputs to the mixer channels are connected to RCAs on the rear panel of the unit. The front panel connections echo the outputs from the audio sources on the left side, while connections on the right provide inputs to up to four external sources.
Switches on the front panel select whether the mixer inputs are connected directly to the audio sources or diverted to the external sources, allowing very quick and simple interfacing to scratch amps or computer soundcards. The audio source connections on the front panel are duplicated, enabling two scratch amps to be connected to the same audio source for simple DJ handovers.
Additionally, two switchable inverse RIAA filters are available to enable line level sources to be connected to the phono preamplifiers of the mixer, there is common mode noise attenuation filtering on all external inputs to help reduce laptop power supply noise, and an earth lift switch helps prevent ground loops.
A&H have also premiered the Xone XD-40 headphones, featuring 40mm neodymium drivers, 40 ohm impedance, 103dB sensitivity, a claimed 15Hz – 28kHz frequency response, up to 1.3W of power handling, and a weight of 220g. The closed cup design provides good isolation from ambient noise and minimal bleed, plus there is a 90 degree angle swivel earpiece for easy cueing.
The Allen & Heath Xone:PB will be available in May 2010 for £210 the XD-40's will be available next month for £66.67. More information on the new Xone products.