Reactable Systems Announces Reactable Live!
Reactable Systems, founded by the creators of the original Reactable: Sergi Jorda, Marcos Alonso, Gunter Geiger and Martin Kaltenbrunner, has announced Reactable Live, a portable version of their famed instrument. Reactable Systems, a spin-off company of the Pompeu Fabra University, is finally commercializing the many years of research in the field of computer music and human-computer interaction to bring the Reactable concept to the masses, well, at least, 20 rich people.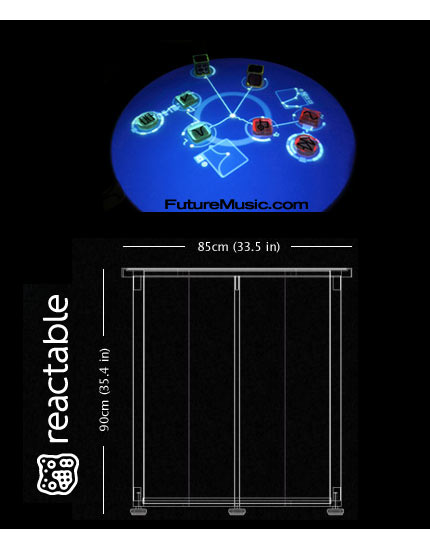 The Reactable Live! interface is clean and direct, without text lists or endless config menus, it puts the whole music creation process in the hands of the musician. Only by designing the hardware and software together could we create a completely new instrument that truly is a step ahead of anything else in the market.
The way the Reactable works is deeply inspired by modular analogue synthesizers such as those developed by Bob Moog in the early 60s and enhances them with new concepts of sampling and digital effects processing. While with modular synthesizers one typically had to connect these different modules with patch cables in a complex and error-prone process, with the Reactable this is attained in a much easier and more intuitive way, since connections between the blocks are managed automatically based on their types and affinities and on their proximity.
Features:
» Portable – Easy to transport and set-up.
» Compatible with your current and future live setup.
» Physical blocks and a multi-touch display make it direct and natural to control.
» Visual – All musical processes are visualized in real-time.
» Modular – Different modules for sound generation, effect processing, sequencing and control.
» Robust – Can withstand heavy usage by professional musicians on stage.
» Intuitive – Explore it and learn on the go.
» Collaborative – Several people can play it simultaneously.
» Flexible – Highly customizable. Extendable effect and sound library
» Materials – Aluminum structure, Acrylic screen, Fiberglass frame
What is included:
— Reactable Live! Core Component
— Table structure with projection surface
— Set of 25 musical blocks
Reactable Systems' Reactable Live! can be pre-ordered on March 29, 2010; a deposit of €2000 is required. Delivery is expected sometime in June 2010 when you must scamper up another €7700 (€9700 total). RS is only releasing 20 units, which will be available to customers from the European Union only. (These guys must have moved to Spain from France. —Ed.) More information on the Reactable Systems Reactable Live!.