Midipad Announced – First Dedicated Wireless MIDI Controller For Apple's iPad
Well this didn't take long, did it? The first thing we thought of when Steve Jobs trotted out the iPad was: A mini JazzMutant Lemur!! — seems we're not alone…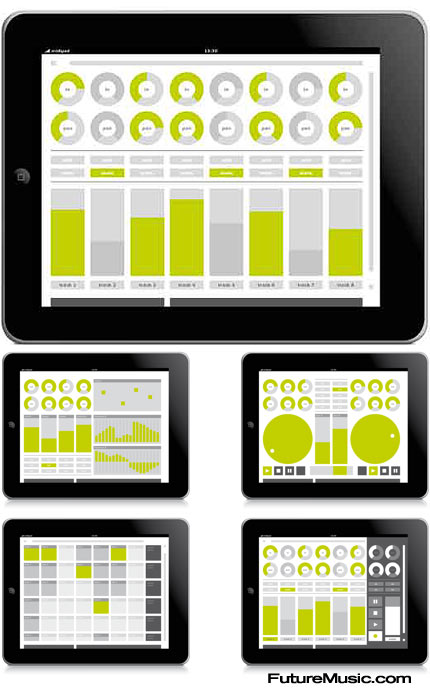 Now comes word that the first iPad MIDI controller, specifically designed for the iPad (but it will work on the iPhone too! —Ed.) has bowed. However, this is just the first shot across the bow, there will be many controller apps premiering in the near future…so buckle up.
The midipad is a new controller app for the iPad that communicates via network-MIDI-protocol. So there is no need to install any communication-peer-software on the Mac. Simply plug-and-play via Apple Bonjour – wirelessly!
This multitouch-capable MIDI controller app communicates with your Apple Mac your Windows-based PC, and even standalone hardware synths, via Wi-Fi. So you can control all of your music applications with just a few finger gestures without having to sit at your desk, and the best part? No annoying cable.
In the studio, midipad can control host applications like Apple Logic, Steinberg Cubase/Nuendo, Ableton Live, etc. It can also be used to control stand-alone applications from companies like Native Instruments, Spectrasonics and others.
As a live musician you can control sub mixes of your virtual keyboard rig, activate setups and change parameters of the virtual instruments or even hardware instruments, all in realtime on stage. If you are a DJ, you can wirelessly control your favorite mixing applications as well.
midipad incorporates various commonly used controller-types like buttons, trigger-pads, sliders, ribbon-control in one and two dimensions, rotary-knobs, or complete functionality blocks like transport-control. midipad also reacts to midi-data from the connected remote computer, to provide instantaneous feedback for your performance.
Preconfigured setups, divided in seperate views can be activated concurrently. Using multi-touch various functionality of the remote-software can be controlled. The features to be controlled can be configured by the user in the setup.
Features:
» Utilizes iPhone OS
» communicates with MacOs and Windows based PCs
» communicates with stand-alone-applications and hardware
» communicates via network-MIDI-protocol
» plug & play via Apple Bonjour, wireless-LAN
» multitouch Interface
Preconfigured setups:
» studio View
» DJ View
» launchView
» fxView
No pricing or availability has been announced. More information on midipad.