Piano Learning Pen Premiers
Piano Learning Pen is musical learning assistant that utilizes scanning technology to help musicians learn piano and violin pieces. The Piano Learning Pen works in real time, and allows you to hear written music by simply following along with the specialized pen.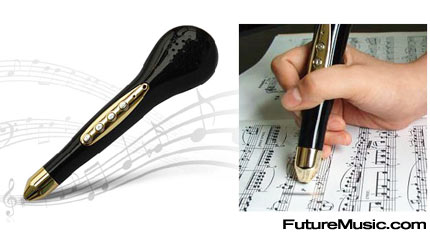 Features:
» Click, listen and practice synchronization
» Electronic Music Metronome
» Practice whole music piece
» Practice music piece part by part
» Left and Right hand practice independently
» Tips and explanation for playing whole music pieces and music phrases
» Music Pronunciation Contrast
» External Speaker and Earphone capability
» Rechargeable Lithium battery
» MP3 function and recording function
» 8G Memory card allowed for 64-80 books
» Dual-Power supply (AAA batteries and DC power supply)
» Has Multi-playing speed to meet different levels
» Weight: 47g
The Piano Learning Pen costs about $27 beans and is available now. More information on the the Piano Learning Pen.