Tannoy Launches Budget Reveal Monitors
Tannoy has debuted two new budget Reveal monitors, bringing the line back with economy in mind.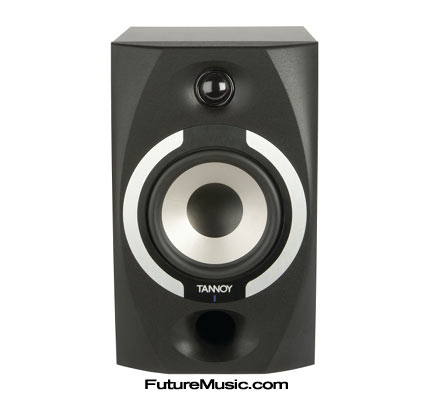 The all-new Reveal range represents the evolution of their active reference monitoring technology. The Reveal 501a and 601a are priced competitively with entry-level and compact recording setups in mind, and deliver wide bandwidth performance that the company claims will impress even the most seasoned professionals. (maybe "seasoned" with lots of alcohol… —Ed.)
The 501a is an active near-field monitor that offers a matched 60W integrated amplifier, a 5" LF/MF driver and 1" soft dome tweeter.
The 601a features a larger 6.5" LF/MF driver, as well as a 1" soft dome tweeter and a total power output of 90W.
Features:
» Response optimized for quarter-space near-field operation
» Front firing reflex bass port to negate boundary-coupling
» Bass unit developed to minimize offsets and linearize the suspension components
» Wideband tweeter design extending the amplitude response beyond 20kHz audibility to 30kHz to improve the phase response from within the audible band
» Sculpted and rigid front baffle design to minimise diffraction
» + 1.5 / 0 / -1.5dB HF trim switch for custom room adjustment
» Balanced XLR and unbalanced jack connectors
The Tannoy 501a cost €145 and the 601a will set you back €235; they also have passive versions that are so cheap you'll just have to send in 12 box tops from Froot Loops to score a pair. More information on the Tannoy Reveal Monitors