OTO Machines Release Biscuit – 8 Bit Stereo Processor
OTO Machines, a small French company helmed by two sound engineers and a music producer, have released their first product, a hand-built 8 Bit stereo processor, dubbed Biscuit.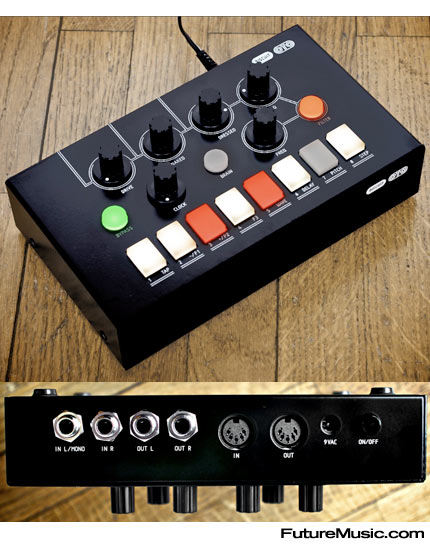 Biscuit is a stereo sound effect processor with true 8-bit converters, digital processing and analog resonant filters. Feed a signal through Biscuit and you can achieve a wide range of sounds from harsh distortion, digital and aliasing artifacts to
warm and fat 8-bit sounds.
OTO claims that Biscuit is very useful for adding depth and texture to any kind of electronic sounds including both digital and analog synthesizers (8 Bit 303 crunch fest! —Ed.), drum machines, loops, samplers and even vocals.
Biscuit is an enhanced bit depth and sample-rate reducer, also known lovingly as a "bitcrusher," followed by an real analog filter. Biscuit features a unique approach to adding "wetness" to the dry signal with two separated buttons, Naked and Dressed – those nutty Frenchmen! It also offers other features like removing or inverting each of the 8 bits, changing the sample rate from 250Hz to 30kHz, or adding one of the four effects (waveshaper, delay, pitch shifter and step filter).
Biscuit is fully MIDI compatible, and you can save the whole Biscuit settings (pots and switches) into 16 presets.
Features:
» Stereo inputs and outputs
» Input gain from 0 to 15 dB with diode clipping
» Real 8-bit Analog to Digital and Digital to Analog converters
» Unique capability of muting and inverting each of the 8 bits
» Variable sample clock from 250 Hz to 30 kHz
» True analog multimode filter with resonance control
» FX section: Waveshaper, Delay, Pitch Shifter and Step Filter
» Separate control of dry and 8-bit signals
» 16 presets locations
» MIDI : Continuous Controller, Beat Clock, Program Change and Sysex for presets
» True relay Bypass
» Rugged metallic Neutrik jacks
» Built like a tank: Thick metal case and strong build
» Dimensions: 190mm x 60mm x 117mm / 7.48″ x 2.36″ x 4.60″ (W x D x H)
» Weight: 580g / 1.27 lbs
OTO Machines Biscuit is available now for €449, or thereabouts. More information on the OTO Machines Biscuit.