Vibesware Releases The Guitar Resonator – Harmonic Feedback Generator
The Vibesware Guitar Resonator, created by Markus Pahl, is a new harmonic feedback generator for electric guitar. It generates "string vibration feedback" live on stage, in recording studios and at home.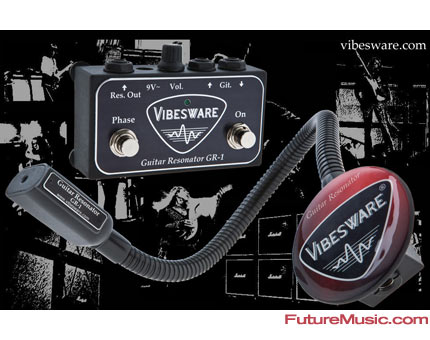 Pahl claims that you can achieve the same powerful and reproducible harmonics at any sound volume — even when playing with headphones, including: feedback sounds of a fully turned up amplifier stack and tones passing into feedback. Pahl even suggest that with the Guitar Resonator you can create your own custom feedback style.
The Guitar Resonator works by agitating one, or multiple guitar strings, with a magnetic field from a string driver mounted on a stand. Unlike the Ebow, it can drive multiple strings and is not hand-held, so normal playing with both hands is possible. It works with every guitar that has steel strings and pickup(s) — even acoustic guitars with piezo's can be applied. In addition, you don't need to modify your guitar in any way. Feedback harmonics can be controlled by the playing technique and by phase switching. Optionally, harmonic modes can be controlled by a foot controller in a CryBaby-like enclosure (optional).
The Vibesware Guitar Resonator costs €339 and is available now. More information on the Vibesware Guitar Resonator