SPL Readies DrumXchanger For MusikMesse
SPL is readying their new DrumXchanger, a plug-in that can replace drum sounds in multitrack sessions regardless of their level. The plug-in works in real time and replaces samples utilizing the German company's Transient Designer technology for drum hit recognition rather than sound creation.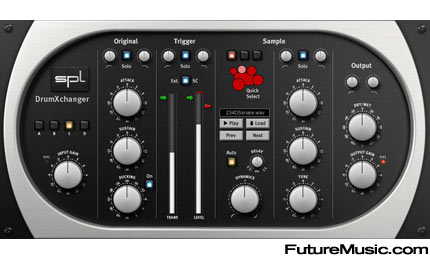 SPL claims all drum hits, including even the faintest ghost notes, are faithfully recognized regardless of their dynamic level. The samples can be mixed with the original sound and there is also a ducking function available, which only reduces the level of the original drum hit itself without affecting the ambience around it.
Besides the basic functions to process the original and sample signals, DrumXchanger includes two fully operational Transient Designer processors, as well as high-pass and low-pass filters for the original, sampled, and output signals. All samples can be pitch-shifted one octave above or below in real time, while a delay control allows precise sample replacement.
In addition, SPL has included a basic library with high-quality 24-bit/96kHz samples. The library, created exclusively with SPL's preamps and processors, includes three drum kits with one snare, one bass drum and four toms each. Every multisample is made up of up to 80 sounds in sixteen dynamic levels and five variations. Why they tossed in this stocking stuffer with DrumXchanger is not readily apparent, but maybe they created these samples and had no idea what to do with them. We'd suggest releasing them for free on their website to gain viewership and goodwill with longtime and new customers. But hell, what do we know…
DrumXchanger will be available for a substantial $449 / €299, but no release date has been announced. The native version comes in the RTAS, VST, and AU flavors. More information on the SPL DrumXchanger.