Numark Puts Stanton On Notice With New V7 Deck Controller
Numark's new V7 motorized turntable controller is now available at your local grocer's freezer. The V7 basically what you'd get if you chopped off one of the decks of the company's hit NS7. The new model should appeal to anyone who was intrigued by the NS7, but didn't want to hire a semi in order to bring it out to gigs. Like it's brethren, the V7 runs Serato's Itch software.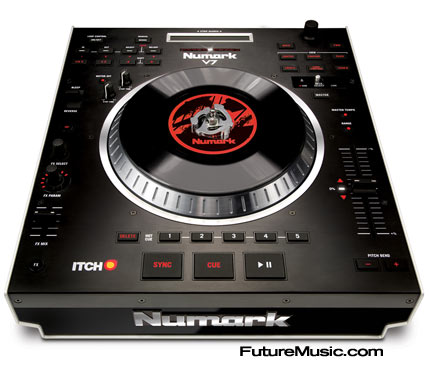 The V7 retains many of the features of the NS7 and contains a link function, which enables DJs to combine one or two V7s with their favorite mixer and their Mac or PC for a custom performance environment.
The announcement is not good news to Stanton, whose main competitive advantage over the NS7 was that their top-of-the-line System.1 deck was simply more portable.
V7 contains a compliment of effects controls, which enables DJs to access the same effects as in Numark's NSFX and the V7 includes a professional 24-bit audio interface that supports dual decks. It is outfitted with premium faders, knobs and buttons including controls for selecting tracks and blending audio effects in the included Serato ITCH software.
This motorized turntable controller employs technology first debuted by Numark in their NS7, in which turntable and control information is exchanged at more than ten times standard MIDI resolution. This data stream creates the solid, latency-free control and because V7's communication protocol is based upon MIDI, it can be used as a controller with a variety of MIDI software, not just ITCH.
V7's direct-drive turntable motor is derived from Numark's TTX, and delivers 12-inch-platter feel on a more-manageable seven-inch platter with high-torque "modern" and low-torque "classic" feel settings. Extensive track-access, loop and cue controls keep the DJ's hands and eyes away from the computer.
Numark's V7 costs $999 and is available now. More information on the Numark V7.