iConnectivity Announces iConnectMIDI For iPhone
iConnectivity has announced iConnectMIDI a new iPhone to MIDI device. iConnectivity claims that you can simply plug your electronic instrument (synthesizer, guitar, whatever) into iConnectMIDI and you can play and control your music, using your iPhone or iPod, your instrument, or both at the same time.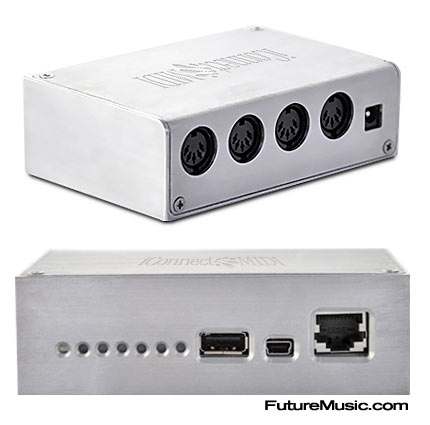 iConnectMIDI can connect up to 16 devices in a chain, controlling all of them with an iPhone or iPod Touch. iConnectMIDI's USB port allows you to plug a USB-enabled electronic instrument into your iPhone or iPod Touch. Put on some headphones, load up an appropriate sequencing app on your phone, and you have the perfect mini-studio for travelling.
The USB port also allows you to plug your instrument into a Mac or PC laptop via iConnectMIDI. Your iConnectMIDI device is compact and tough, roughly the half the size of a paperback novel. With its brushed metal casing it can take a beating on tour, and its rubberized feet keep it from sliding around on stage or on your desk.
The iPhone's unique interface takes the music world's standard electronic protocol, and brings it into the new millennium. A whole new world of MIDI controls have been opened. Instead of knobs and wheels, the iPhone's touchscreen and accelerometer controls will change the may you make music.
The device is still in its infancy, but there's a lot of dynamic possibilities. More information on iConnectivity.