Analogue Solutions Releases Europa – Hardware Step Sequencer
Our web-challenged pal at Analogue Solutions, Tom Carpenter, has just informed us that his new dedicated hardware sequencer, Europa, is now available.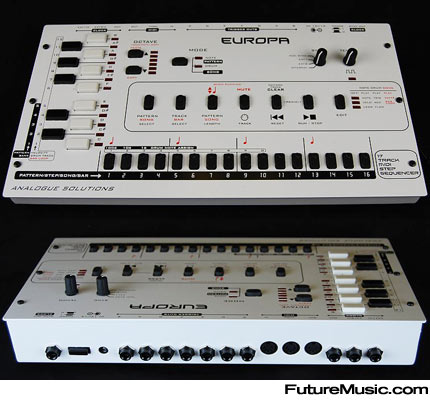 Poor Tom hasn't even bothered to register his own domain name or update the circa 1996 design of his website, but he is quite proud of his latest creation, the Europa. The 17 track, step-sequencer was designed to be used with the SQ8 and Oberkorn analog sequencers, and anything else with a compatible clock or MIDI input for that matter. Apparently poor Tom is even too busy to write up a proper description of the Europa, but here's a feature set:
Features:
» Intuitive and simple programming procedure
» No sub-menus or shift keys – one function per key
» Simple to use – TR808/606 style programming
» Analog features – analog tempo clock, 7 analog trigger outs, analog sync signals
» Realtime editing features
» Transpose, Octave shift, Mute
» Steel construction
Analogue Solutions' Europa costs £499 (exc. tax and delivery) and is available now. More information on Analogue Solutions Europa.