Evol Announces Fucifier Tweak Box
Evol has announced the Fucifier distortion box. The Fucifier allows you to shape your sounds in new inventive ways via a combination of amplification, distortion, analog filtering and/or EQ.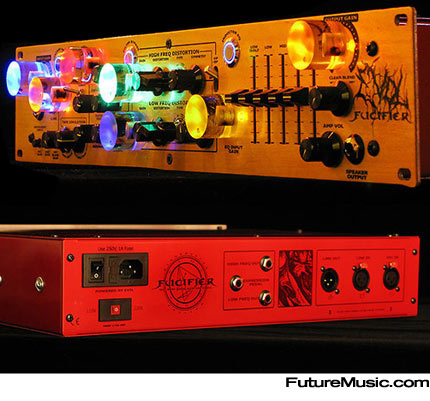 Everything in the signal chain, from the Mic Pre, the Vintage Germanium Preamp, the Filter, and the inductors in the Equalizer to the output transformer, is designed to be overdriven, saturated, overloaded or distorted in a pleasing way.
Mix and match the Vintage Germanium Preamp for a little warmth or overdrive, the Tape Saturation overdrive for a little compression and limiting or a bit of saturation, the Filter/Crossover (which in itself sounds great overdriven or even pushed into self oscillation with a sufficient amount of resonance), the Dual Band Distortion which allows you to mix many different kinds of distortion, and the vintage-style inductor based equalizer to shape the overall tone and color of the sound.
Features:
» Branded real wood front panel, custom finished by hand
» Color coded, lighted acrylic, audio responsive gain meter knobs to see at a glance where your various gain stage levels are
» Discrete mic preamp
» Low noise, high quality balanced line input
» Gain control of mic, instrument & dry mix gain in addition to control of overall input gain
» True relay bypass of each effect section using lighted indicator ring metal push buttons
» The Vintage Germanium Preamp section uses specially matched NOS vintage germanium transistors for added warmth and a great overdrive sound
» True Analog Filter:
— variable freq & resonance
— LFO with variable amplitude and speed, an envelope detector and expression pedal control which can all be used separately or in conjunction to control filter frequency
— selectable high pass, band pass, or band pass + high pass filter response modes for the high freq distortion section- separate low pass & high pass outputs on the back panel for processing each band separately with external gear
» Dual Band Distortion allows control over:
— drive, distortion amount, distortion type (6 modes), clipping symmetry & low freq/high freq blend control to blend the two distortion sections in varying degrees
— Inductor Based EQ with 5 bands of boost/cut: low, mid, high bands plus a low shelf & high shelf
— Speaker output to plug a speaker cabinet into your Fucifier for use as an amp sim or even an amp!
— Wet/Dry signal blend control
— Transformer coupled, discrete Class A output section
— Internal regulated AC power supply (no wall warts!)
— 2 space, 19 incf rack mount enclosure
More information on the Evol Fucifier.