Telefunken Introduces M80 Dynamic Mic – SM57 Killer?
Telefunken Elektroakustik recently debuted the M80, a funken competitor to the industry-standard, Shure SM57 Dynamic.

Featuring a wider frequency response and higher SPL capabilities, Telefunken claims the M80 delivers condenser-like performance in a rugged dynamic design, producing a microphone equally suitable for voice, instruments or drums on both stage and in the studio.
Due to its low mass capsule and thin capsule membrane the M80 presents a wider range of emotion from a live vocal with an intimacy that has been traditionally reserved for studio quality condenser microphones.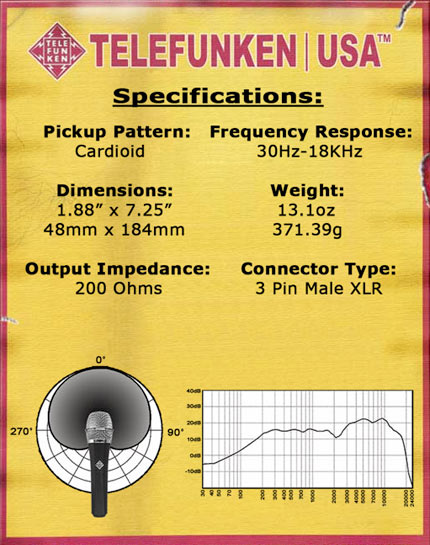 The head and capsule assembly has been designed to reduce proximity effect to which nets added low end clarity for vocals, while still providing "strength" and "authority" and an "open," "airy" character without adding danger of upper midrange feedback or "honk." The M80 also features an American made custom wound impedance matching transformer.
The M80 is available in two versions: the "Standard Version" which includes a mic clip and bag; and the "Studio Set" which includes a mic clip, wooden box, and an additional black head grille.
Shure SM57 killer?? Not at this price…
The Telefunken M80 Standard costs $249, and the Studio Set will damage your wallet for $279. More information on the Telefunken M80.