Apple Unleashes The iPad Tablet Computer
Apple has just unveiled their new iPad tablet computer with a 9.7 IPS LED backlit display, 1GHz Apple A4 chip, and has 16GB to 64GB of flash storage.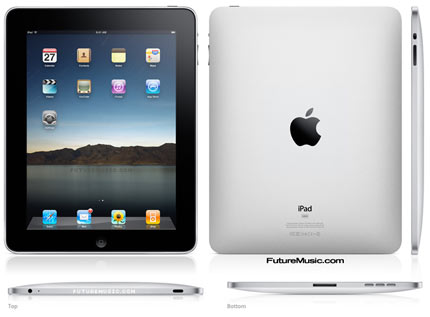 It has 802.11n, Bluetooth 2.1 + EDR. 30-pin connector, speaker, microphone, accelerometer and compass. It also claims to have 10 hours of battery life, including video. However, in what could be the product's biggest MISS, there is no built-in camera. Repeat: NO CAMERA.
Apps can be "supercharged" on the iPad, but it will also be able to utilize every app created for the iPhone and iPod Touch. Several new apps from the New York Times, Electronic Arts and Major League Baseball have been showcased at the Apple Event.
Some of Apple's proprietary software has been ported to the iPad with a tablet-specific user interface. First out of the gate will be Apple's iWorks. No other Apple software will be available like: LOGIC Audio. Bummer!!
The iPad will come in two flavors Wi-Fi and 3G (via AT&T's wonky network. Again, Bummer!!)
Pricing:
iPad Wi-Fi: 16GB / $499; 32GB / $599; 64GB $699.
iPad Wi-Fi/3G: 16GB / $629; 32GB / $729; 64GB $829.
Availability: April for Wi-Fi Models, May for 3G action.