Denon Announces DN-X1600 Digital DJ Mixer With Roland's V-Link
Denon DJ has announced the DN-X1600 Digital DJ Mixer. Based on the same core engine as Denon DJ's DN-X1700, the DN-X1600 is a four-channel digital mixer with a variety of features including: working with vinyl, CD, digital files, DJ software applications via laptops and USB storage devices, and extensive MIDI control.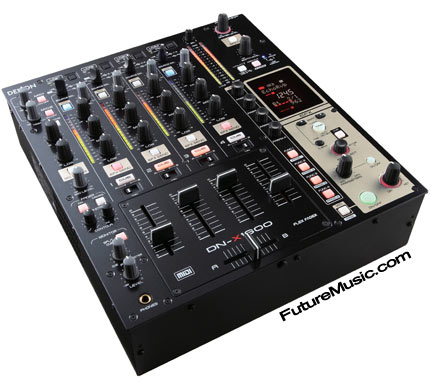 The DN-X1600 features large rubberized knobs, 60-mm Alps custom channel faders, a VFD display and extended 16-point LED channel and output metering. A first for any DJ mixer introduced to date, the DN-X1600 is also equipped with V-LINK, a function developed by Roland that allows DJ performers to simultaneously integrate audio and video. Connecting devices that support V-LINK to the mixer's MIDI terminals (such as the EDIROL V-4 or V-8) make it possible to perform a wide range of visual effects linked with the tempo of the music. (this is easily the 1600's most intriguing feature. —Ed.)
The DN-X1600 offers 32-bit Floating DSP and a 32-bit D/A converter, along with a large capacitor and large-diameter winding wire for the transformer for better sound quality. It features a Phono Amplifier with high sound/noise ratio based on Denon's Consumer Premium Audio products. The unit's Discrete Transistor construction for the Mic Amplifier realizes a studio console class' low noise level (EIN: 126dB).
A total of 14 digital effects open the DN-X1600 up to a variety of sounds and mixing techniques. All effects can be freely assigned to any channels. Effects include Delay, Echo, Ping-Pong Delay, Trans, Flanger, Filter, Phaser, Reverb, Echo Reverb, Loop, Reverse Loop, Pitch Shift, Beat Breaker and Beat Scratch (Ping-Pong Delay, Echo Reverb and Beat Scratch are newly developed).
The DN-X1600 offers a number of connectivity features including: an exclusive MIDI control UI area for better ease-of-use; eight-channel (4x L/R stereo) USB Audio I/F soundcard (PC/Mac); Matrix Input Assign with DVS direct mode for control signal (timecode) DJ applications; 4 MIDI Layer and MIDI Remote functions for a variety of control; and a Low Latency ASIO Driver.
The Denon DN-X1600 will be available sometime next month; no pricing has been released. More information on the Denon DN-X1600.