Korg Drops Kaossilator Pro – Dynamic Phrase Synthesizer Plus Loop Recorder
Korg has announced the Kaossilator Pro, basically a Kaossilator on steroids. The new Kaossilator Pro has been reimagined as a powerful track-making tool and loaded with live performance power.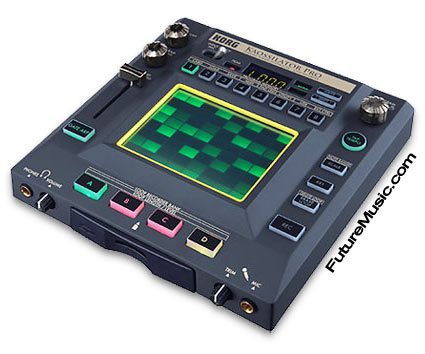 With 200 sound programs, a new Electribe-inspired gate arpeggiator, and four loop recording banks that can even record external audio sources, the Kaossilator Pro is packed with features that make it ideal for both live performance and production. In addition, USB connectivity with your computer and SD card memory storage allow the Kaossilator Pro to be used not just for improvised performances, but also as a track-making music production tool.
Features:
» KAOSS X-Y touchpad offers intuitive, realtime control
» 200 sounds covering modern synth sounds such as lead and bass, and diverse acoustic sounds from piano to trumpet and beyond
» PCM samples provide dramatic drum kits and ready to rock percussion patterns
» Vocoder programs deliver scintillating vocal effects
» Access up to eight of your favorite sounds instantly using the assignable Program Memory buttons
» Loop Recording can layer both internal Program sounds and external audio overdubs
» Four Loop Record Banks each allow up to four measures of loop recording, with easy muting that allows expressive realtime layering and DJ-Style re-mixing – ideal for live performance.
» Gate Arpeggiator repeatedly triggers sounds in sync with the tempo. The slider controls either the gate time or gate speed.
» Choose a key and select one of 31 musical scales to easily create musical phrases. Limit the X-Y pad's note range for even more control
» Loop data, user settings and Program Memories can be stored on SD card
» Dedicated software lets you manage loop data, MIDI assignments, and user settings from your computer
» Performs double-duty as a MIDI controller for external equipment or software applications
The Kaossilator Pro provides an SD card slot for storing loop data and user settings such as program memories. Favorite phrases can be saved to build up a collection of loop data. SD Card storage also allows you to create the same show with the same loops, night after night. You can also swap loops with other Kaossilator Pro users, or use your data in multiple units.
Kaossilator Pro Editor is a dedicated software program for managing your recorded loop data, as well as MIDI assignment editor functionality that lets you transform the Kaossilator Pro into a powerful MIDI controller that's set up just the way you want. Kaossilator Pro Editor can be downloaded free of charge from the Korg website. The Editor runs on Microsoft Windows XP / Vista / 7, and on Mac OS X 10.4 or later.
No Pricing or availability has been announced. More information on the Korg Kaossilator Pro.