Hercules Updates DJ Console Controller To MK4 Status
Hercules has announced the DJ Console Mk4, a mixing console with a compact design and analog audio source connectivity. This new mixer for amateur to mobile DJ's is an updated version of their DJ Console and DJ Console Mk2 and features several improvements and additions.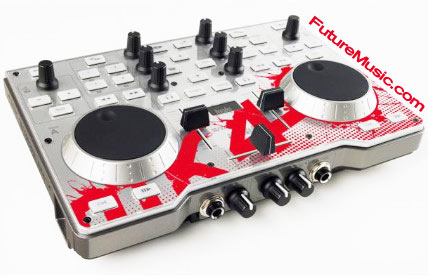 Built for mobile DJing, the DJ Console Mk4 features a strikingly modern design with a thinner, but wider body, than the previous model, the DJ Console Mk2. It also includes more precise jog wheels, 4 browser buttons instead of a joystick, more space between the cross fader and jog wheels and backlit buttons for ease of use during low-light conditions. Compact (7.36" x 10.4" x 2.5") and lighter than a laptop computer (2.5lb) with large, non-slip feet for stability while mixing, users can take the Hercules DJ Console Mk4 anywhere.
Features:
» 2 stereo outputs (2 x 2 RCA) let DJs play their mix for the audience (channels 1-2: 2 RCA outputs to connect hi-fi systems and mixers, plus 1 stereo mini jack output (1/8" / 3.5mm) for multimedia speakers), while also previewing the next track for themselves (channels 3-4: 2 RCA outputs, plus 1 headphone plug).
» 2 stereo inputs (2 x 2 RCA) let DJs connect external audio sources, and include them in their digital mix: vinyl turntables, CD or MP3 players, and so on.
» 4 input levels: phono (for vinyl turntables), consumer line level (-10dBv, for MP3 players), pro line level (+4dBu, for studio gear), and boosted pro line level (+8dBu, for the most powerful CD players designed for DJing).
» 1 microphone jack (1/4" / 6.35mm), with talk-over function.
» 1 headphone jack (1/4" / 6.35mm), for previewing tracks.
» Two decks for mixing digital audio files
» Two jog wheels for moving within tracks, adjusting speed of playback, applying scratching effects and more
» Bundled with VirtualDJ DJC Edition
The Hercules DJ Console Mk4 will be available sometime this Spring, no pricing has been announced More information on the Hercules DJ Console Mk4.