Akai Announces APC20 – New Baby Ableton Controller
Akai has announced the APC20 Ableton Performance Controller. The APC20 is the second control surface created by Akai Professional for performance with Ableton Live software. Unfortunately, Akai did not address the sloppy right side of the APC40, which still leaves room for competitors to develop a product that addresses this deficit.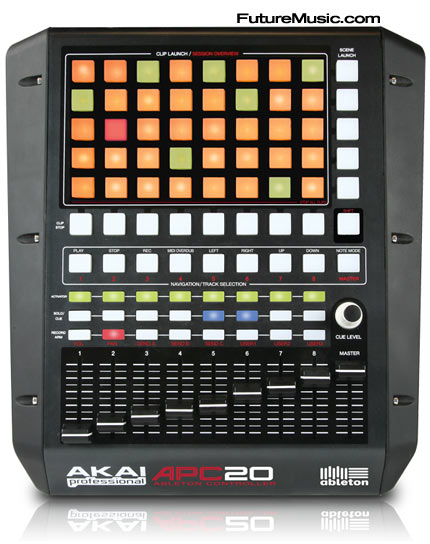 Akai claims the APC20 retains many of the APC40's features and capabilities, while shrinking the physical footprint and adding interesting new capabilities. Like the APC40, the APC20 centers on its five-by-eight Clip Launch grid. This bank of multicolor triggers not only start and stop clips playing in Live, they also show cells status in the software – whether a clip is loaded or not, whether it is playing or not, record-armed status and more. Clip Stop triggers, transport controls and faders round out the control surface. Users can switch the APC20's faders between volume control, pan, sends and three different user-mapped modes. A new Note Mode enables musicians to use the Clip Launch buttons to control virtual instruments and Ableton Live's Drum Rack.
Akai's APC20 will be available sometime this spring; no pricing has been announced, but it should be competitive with Novation's runaway hit, the Launchpad. More information on the Akai APC20.