JVC Debuts Sleek New Virtual Surround iPod Dock
Considering the sheer amount of new iPod dock announcements we receive every week, FutureMusic could literally create a new section detailing all the new products. While we don't report on every new model, every now and again a new system catches our eyes and ears. JVC's new XS-SR3 iPod speaker system features a unique wraparound design, Dolby Virtual Surround, and a dock that can position an iPod vertically or horizontally, which is great for video.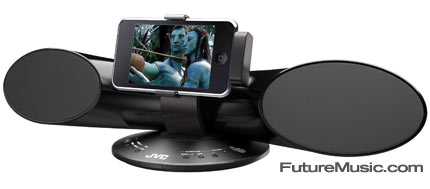 The new JVC XS-SR3 surround dock contains a sleek, glossy black speaker tube with a curved design that allows the iPod to nestle between the speakers. The iPod holder rotates for viewing video in widescreen mode and comes with four clips to hold selected iPod models. The speakers' neodymium magnets deliver big sound, while Dolby Virtual Surround creates the illusion of a wider sound field when viewing video content. Power output is five watts and the system features two audio inputs, one analog and one digital optical. A remote control is included. For double-duty, the XS-SR3 can also be used as computer speaker system.
The JVC XS-SR3 is available now for $150. More information on the JVC XS-SR3