HP & Native Instruments Announce Envy Beats Audio Computer
HP has introduced the Beats version of it's Envy laptop. Dr. Dre and Native Instruments teamed with the computer maker to release a high-performance laptop dedicated to audio production and DJing.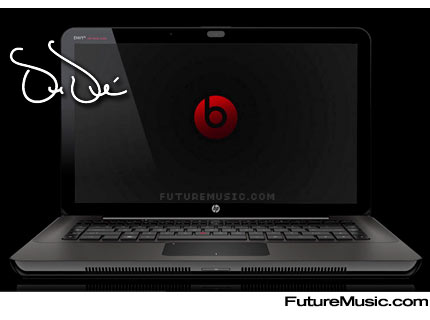 The result is the HP Eny 15 Beats Limited Edition. This performance machine comes with Native Instruments' quality Audio 2 DJ soundcard and Traktor LE software. Unfortunately, HP couldn't shoehorn the integrate the Audio 2 interface inside the Envy…
To kick off the new computer in style, HP and NI have announced that you can score one by simply sending an email marked 'Envy' before December 31, 2009 to: wintraktor@native-instruments.com
Features:
» Intel Core i7-720QM Processor (1.6GHz with Turbo Boost up to 2.8GHz)2 3 4
» Windows 7 Home Premium 64-bit1
» 15.6″ Diagonal Full High Definition7 LED HP Ultra Brightview Widescreen Display (1920×1080)
» ATI Mobility Radeon HD 4830 with up to 3835MB total graphics memory with 1GB dedicated
» 6144MB DDR3 System Memory (3 Dimm)
» 500GB (7200RPM) Hard Drive (SATA)
The Future: Another savvy move for Dr. Dre who has found another avenue to cash in on his personal brand. Look for a Beats Car sound system in 2010…
More information on the Beats Envy 15.