Native Instruments Announces Traktor Kontrol X1 – DJ MIDI Controller
Native Instruments has announced Traktor Kontrol X1, a MIDI DJ controller due in February 2010. NI has been rumored to be developing a MIDI DJ controller for the last couple of years, and the X1 appears to be the fruit of their labors.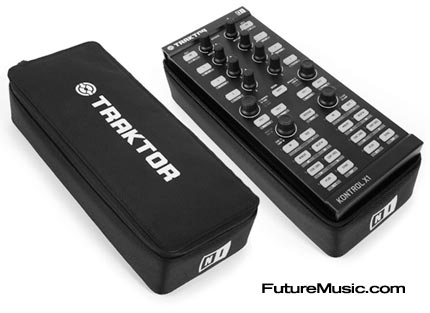 Traktor Kontrol X1 allows DJs to control loop, cue, effect, track selection and transport functions of their system. The unit accommodates the two most common digital DJing paradigms, a DVS (Digital Vinyl System) consisting of a hardware mixer, turntables or CD decks, as well as a self-contained controller for DJs who play beat-gridded tracks with the Traktor software and mix externally. Two X1 units can also easily be combined into a four-deck setup that controls all decks and effect units of Traktor Pro.
The functionality and layout of Traktor Kontrol X1 was carefully engineered and fine-tuned based on extensive artist feedback and usability testing in order to combine a versatile feature set with maximum ease of use. The unit is equipped with precise and durable high-quality buttons, knobs and encoders, complemented by dynamic colored backlighting for additional visual feedback. NI claims the X1 integrates with the Traktor software through a dedicated high-resolution protocol, resulting in a level of precision and responsiveness beyond what regular MIDI-based controllers can provide, and allowing for true plug-and-play operation with no setup or specific configuration required.
Traktor Kontrol X1 has been specifically designed for heavy-duty usage in performance environments. Its compact casing is both robust and lightweight for high portability, and the special vertical form factor makes the unit fit seamlessly within a typical club setup. The optional high-quality carrying bag for the X1 doubles as a versatile stand that conveniently raises the controller surface to match the height of typical DJ mixers.
The Traktor Kontrol X1 can be used to efficiently control any MIDI-compatible DVS, DJ software or music performance application. The optional MIDI mode of the controller can be engaged on the fly via a dedicated button on the unit. The X1 also comes with a carefully designed set of parameter assignments for the Serato Scratch Live system, matching the relevant features of the software to the controller in an ideal way without any individual setup effort. A special Serato Scratch Live overlay for the X1 is also available.
Traktor Kontrol X1 also ships with Traktor LE, a basic version of the Traktor Pro software that provides two decks with essential looping, effects and mixing features, turning X1 into a complete entry-level solution for digital DJing.
The Future: The 800 lbs. Gorilla in the room — is this too little, too late? Based on this initial press release, one can't help but ask "why did it take this long to develop this controller? There doesn't seem to be anything truly groundbreaking here, even if it is rock solid, with excellent build-quality and a higher resolution protocol. Many industry watchers were expecting more…
Native Instruments' Traktor Kontrol X1 will be available in February 2010 for $229 / €199. The carrying bag / stand for Traktor Kontrol X1 will be available for a substantial $49 / €39. More information on Native Instruments Traktor Kontrol X1.