Syntheway Releases Virtual Sitar – Virtual VST Plug-In Instrument For Windows
Syntheway has released Virtual Sitar, a new VST instrument for Windows designed to emulate an Indian Sitar.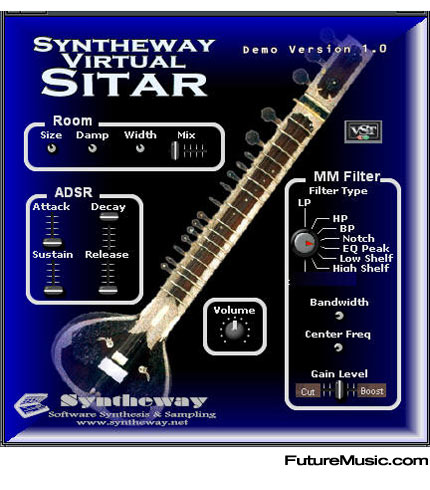 Features:
» Mastered sitar samples recorded with special equipment in a low noise environment. Full length sustain, no loops (natural decay).
» Includes 18 predefined sounds.
» Optimized CPU and memory usage.
» ADSR envelope generator with Attack, Sustain, Decay and Release parameters and several modulation targets.
» Multiple-Mode Filter: The values are automatically computed when you select any of the filter types. Filter switch includes: LP (Low pass), BP (Band pass), HP (High pass), notch, peak, low pass and high pass shelving filter with adjustable cutoff and bandwidth.
» Variable room simulation – Reverb effect can control the "room ambience"
» MIDI Automation: Added complete MIDI CC#. The following MIDI Continuous Controllers (MIDI CC) messages are recognized and affect the described parameters:
Syntheway's Virtual Sitar for Windows is available now for $25.90. More information on the Syntheway Virtual Sitar.