Audio-Technica Premiers AT4080 & AT4081 Bidirectional Active Ribbon Mics
Audio-Technica has premiered its first-ever ribbon pups, the AT4080 and AT4081 Bidirectional Active Ribbon Microphones. Audio-Technica's R&D team in Japan engineered and manufactured the AT4080 and AT4081 from the ground up, utilizing a hand-built, proprietary design and rugged, durable construction.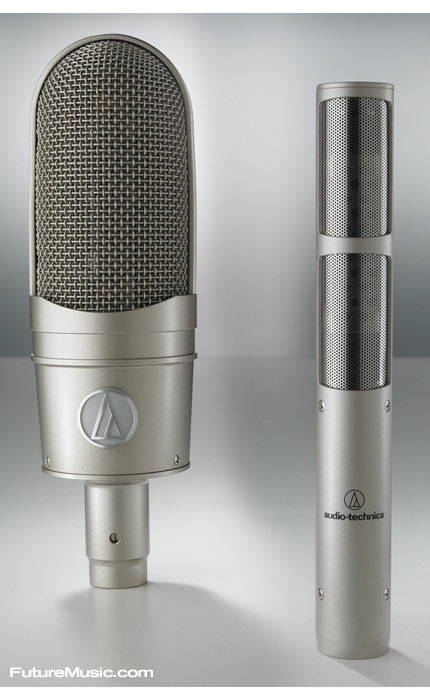 Audio-Technica claims both offer smooth, warm and natural sound with precise, articulate detail to meet the critical requirements of today's recording, broadcast and sound reinforcement professionals. With 18 patents pending, Audio-Technica's innovative ribbon transducer advances the evolution of ribbon microphone technology, combining remarkable durability and high SPL capability with smooth, rich audio quality. The AT4080, whose footprint is that of a classic "suspension cradled" side-address condenser, is recommended for vocals, horns, strings, acoustic instruments, drum overheads, orchestras, ensembles and guitar cabinets.
The AT4081, with an appearance more like that of a pencil condenser, is said to be optimized for strings, saxophones and other horns, acoustic instruments, drum overheads, orchestras, ensembles and guitar cabinets; its low-profile stick design maximizes placement options. Both mics excel in recording studios as well as in live-sound settings.
The AT4080 and AT4081 are side-address active ribbon microphones with bidirectional polar patterns. Delivering the versatile performance and warm, natural sound of classic ribbon microphones, the AT4080 and AT4081 each feature a robust build for long-lasting performance and offer active electronics for easy use with microphone preamplifiers. Extremely powerful N50 rare-earth neodymium magnets provide high output levels, and the mics' innovative dual ribbon construction offers increased sensitivity and SPL handling capability. The bidirectional polar pattern of the mics makes them equally sensitive to sounds originating in front and back of the mic. Both feature extended frequency response for natural audio reproduction, and the AT4080 utilizes an acoustic baffle system and an extra-large output transformer, providing extended low-frequency response and dynamic range.
A significant breakthrough in ribbon cartridge design, Audio-Technica's patent-pending MicroLinear ribbon imprint minimizes lateral flexing for durable performance and accurate reproduction of the sound source, as well as freedom from ribbon distortion. The AT4080 and AT4081 are enclosed in rugged housings and feature stabilized internal components. Both employ ultra-fine inner mesh to help protect the ribbon elements against damage from wind and plosives. Combined, these engineering features result in a ribbon microphone of unparalleled durability.
While the application of phantom power was prohibited for typical ribbon microphones, the AT4080 and AT4081 in fact require 48V phantom power for operation. The phantom power, however, is used not for the microphones' dynamic ribbon transducers, but for their active electronics, which bring their output to near condenser microphone level. This high output and stable impedance make the microphones easy to integrate with microphone preamplifiers. The output of each microphone is a 3-pin XLRM-type connector. Output is low impedance (Lo-Z) balanced.
The AT4080's included AT8449/SV shock mount and the AT4081's included isolation clamp provide isolation and permit mounting on any microphone stand with 5/8″-27 threads. The AT4080 comes with a dust cover and a protective carrying case, while a windscreen is included with the AT4081. Both mics are fully RoHS compliant, meaning they are free from all substances specified in the EU directive on hazardous substances.
Audio-Technica's AT4080 and AT4081 Bidirectional Active Ribbon Microphones will be available sometime in November for $1,245 and $895 respectively. More information on the Audio-Technica AT4080 and AT4081.