Novation Premiers New Nocturn Keyboard Controllers
Novation has premiered two new Nocturn keyboard controllers based on their small DJ controller. With the addition of 25 and 49 note keyboards, Nocturn's controller layout has been adapted to a full control solution for DAW users.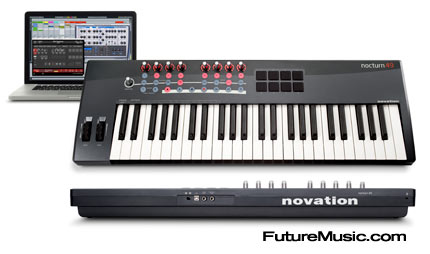 The Nocturn Keyboard displays control information where you really need it: on your computer monitor. The Automap software graphically displays Nocturn Keyboard's entire control surface, enabling you to assign parameters by simply clicking on them. The controllers themselves also tell you what's happening: LED rings around the eight encoders show their current settings, while LEDs behind the 25 buttons show if they are on or off.
Nocturn Keyboard has been designed as a musical instrument as well as a control surface. The high-quality Fatar 'Fast Touch' keyboard mechanism, with velocity-sensitivity and aftertouch, allows for more expressive playing styles, suiting both stage and studio performance. There are separate pitch bend and modulation wheels, as well as eight velocity sensitive drum pads for sketching drum patterns and triggering samples.
Novation's Automap control software is now even more powerful and easy to use. It acts as a software interface for the control surface, visually showing you what software parameter is assigned to each control, exactly as it is laid out on the unit.
You can also name each control, turning the GUI into a giant screen where all information is instantly displayed and updated. Automap's 'learn' function enables you to map parameters in your software plug-ins, straight to dials and buttons on the controller by simply clicking on a parameter, then touching the controller. There is no longer any need to sift through long lists of MIDI CC numbers. Automap also now has integrated HUI control, allowing instant hardware mixer control for all HUI compatible DAW's, such as Logic and Pro Tools.
The Novation Nocturn 25 costs $249 and the Nocturn 49 will hit your wallet for $299 when they hit stores in October. More information on the Novation Nocturn Keyboard Controllers.