Native Instruments Officially Announces Guitar Rig 4 Pro
Looks like our intel was spot on yesterday: Native Instruments has officially announced Guitar Rig 4 Pro, the next generation of its excellent, computer-based guitar effects action. The fourth version features advanced new speaker emulation technology, and further expands on many other of the product's attributes.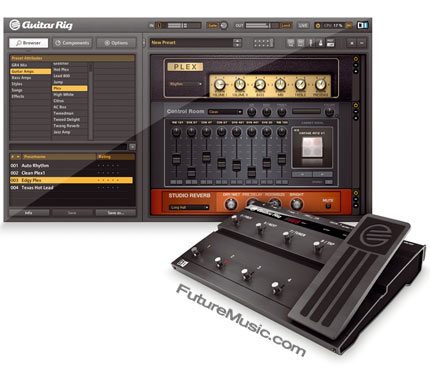 Guitar Rig 4 Pro introduces advanced cabinet and microphone modeling, providing an enhanced organic tone based on latency-free convolution technology. The advanced speaker emulation is also the basis for the versatile new "Control Room" module, developed in collaboration with leading German studio guitarist and recording expert Peter Weihe. This new module allows users to freely mix and match up to eight phase-aligned studio microphones for each cabinet, allowing an unlimited range of high-end studio recording tones.
To further expand its comprehensive arsenal of carefully modeled amplifiers, Guitar Rig 4 Pro offers two additional tube amp models that include the hot-rodded "Hot Plex" and the energetic "Jump", both based on Native Instruments' sophisticated Dynamic Tube Response technology.
The comprehensive arsenal of effects in Guitar Rig 4 Pro is complemented with two new delay units and two new flavors of reverb, bringing the overall number of included effects to 48.
Musicians who use Guitar Rig for live performance benefit from the new, dedicated master effects section, which enables popular stage configurations that can now include global equalizers as well as overlapping delays and reverbs. For recording purposes, Guitar Rig 4 Pro also introduces true-stereo processing across the whole signal chain, which greatly accommodates the usage of the software as a universal effect unit for stereo signals.
Guitar Rig 4 Pro introduces a completely overhauled preset browser with many usability optimizations. With a new layout, faster and more efficient search functions, flexible attributes, convenient sorting and full compatibility with the KoreSound format from Native Instruments' Kore 2, even large collections of tones can be managed in an especially convenient way. Guitar Rig 4 Pro also includes a pre-categorized models of more than 250 ready-to-play guitar sounds for a wide range of musical styles.
Further improvements in Guitar Rig 4 Pro include optimized sound quality for pitch-based effect modules, expanded host automation and controller assignment features, universal MIDI control functionality for the Rig Kontrol 3 pedal board, and more.
Native Instruments' Guitar Rig 4 Pro will be available sometime in October 2009 in various versions to several different price points. The software only version of Guitar Rig 4 Pro will cost a very reasonable $199 / €179, and will also be part of the new KOMPLETE 6 bundle, which is a steal at $499 (see accompanying story).
Guitar Rig 4 KONTROL with included foot controller/audio interface $449 / €399; EUR), Guitar Rig 4 ESSENTIAL is $99 / €89; Guitar Rig 4 SESSION which combines Guitar Rig 4 ESSENTIAL with the SESSION I/O audio interface at $249 / €229. You think NI stopped there?? Hell NO! Guitar Rig 4 MOBILE which now also includes the mid-range Guitar Rig 4 ESSENTIAL software for $119 / €99. More information on Native Instruments Guitar Rig 4 Pro.