DJ Tech Launches DJ Mouse – But Can It Be Hacked?
DJ-Tech has announced what they call the first dedicated "DJ mouse" created for all DJ applications. The DJ Mouse has been designed from the ground up to allow the user to mix, scratch and work the virtual decks using a variety of software on the market including Deckadance, which comes bundled with the product.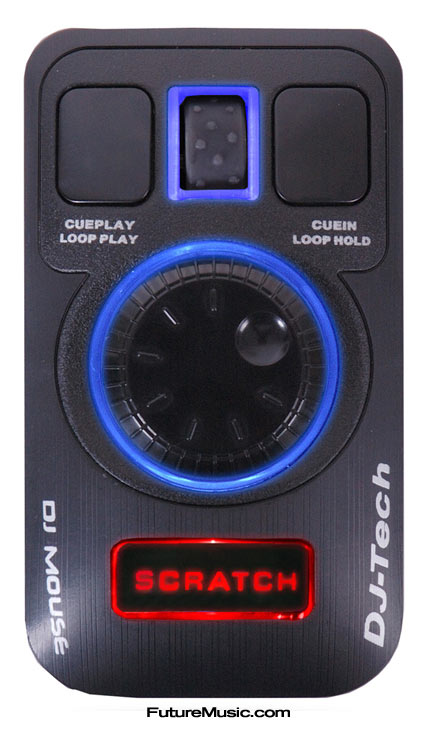 The broken English on their website doesn't help matters, but this is what we can tell you…
Features:
» Real time Mixing and Scratching with digital files
» 6 effects with X and Y Control pads
» AUTO BPM, AUTO MIX
» Heavy weight 120g laser mouse
» Multi Function jog wheel with blue LED illumination
» Scratch Direct access Memory
» Optimized for Deckadance Dj software for MAC and PC
» Aluminum "feel" (whatever that means)
» USB powered
Also included is some type of DJ scratch mat with a "Turntable design" that is "optimized for Scratch Performance." Basically a glorified mouse pad, so don't get excited…
The Mouse can perform a variety of tasks including:
» Drag and Drop songs from the play list
» Play 4 different CUE points
» Access the Effects
» Play Samples
» Play Loops
» Play the 3 Reloopers
» Preview song
» SYNC and downbeat
The virtual Vertical wheel provides:
» Rewind and fast forward effect
» All faders and knobs control
» Scroll Playlist
It's amazing that DJ Tech can't seem to scamper up an English speaking human to make sense of their gibberish, but depending on how programmable this mouse is, tweakers could have some fun molding the mouse's functionality to their own workflow. Here's a demonstration video that showcases how you can "rock the party."
The Future: The Image-Line brand kinda takes a hit on this one…
More information on the DJ Tech DJ Mouse.