Sugar Bytes Unleashes Eloquence
The innovators at Sugar Bytes have released Eloquence, the latest sequencing brainstorm from the dynamic German company. Eloquence is an extremely powerful and intuitive MIDI step sequencer plug-in for Mac and PC, that gives the user new control over their favorite MIDI devices.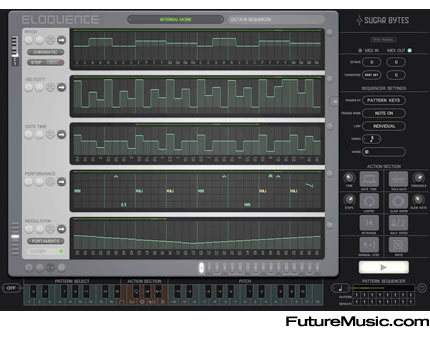 For live musicians, Eloquence provides an extremely versatile palette of performance options which can be triggered right from your MIDI keyboard: you can transpose, manipulate, twist up, mutate, and mangle your patterns without even getting near your computer.
Eloquence is a plugin which can be used with any major Windows or Mac VST or AU host. This includes Cubase, Logic, Kore, and Ableton Live, among others.
Sugar-Bytes took a new approach to MIDI sequencing with Eloquence that they hope will allow you to wrestle new sounds out of your current crop of software and hardware synths.
Sugar Bytes Eloquence costs $129 / €99 and is available now for Mac and PC in the VST and AU flavors. More information on Sugar Bytes Eloquence.