Microsoft Zune HD Now Available For Pre-Order, Bows September 15th
Microsoft has announced that the Zune HD, the next generation of Microsoft's portable digital media player, is now available for pre-order and is set to hit store shelves on Sept. 15. The player, available in 16GB and 32GB flavors, is the first touch-screen Zune.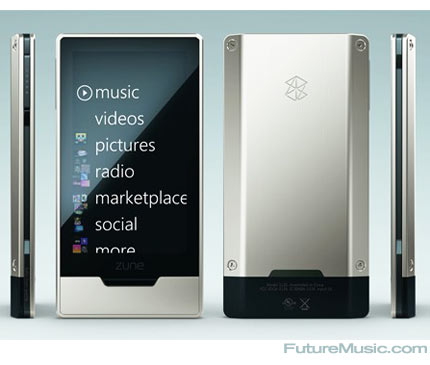 The Zune HD features HD radio, NVIDIA Tegra video, Wi-Fi and 720p resolution. It will bow in a 16 GB black model for $219.99, and a platinum 32GB color for $289.99. You can pre-order the Zune HD from Amazon.com, Best Buy, Walmart and Microsoft today or wait until September 15 to score one at major retailers. Both the 16GB and 32GB Zune HD models will be available in five different colors with the option to customize your player with one of 10 new engravings.
Features:
» Built-in HD Radio receiver. Allows you to listen to higher-quality sound than is available from traditional radio channels, as well as access additional programming through HD2 and HD3 multicast channels from many of your favorite local FM radio stations at no extra cost.
» HD video output capabilities. Supports HD video playback from the device through a premium HDMI A/V docking station directly to an HD TV in 720p, making it easy to enjoy better-than-DVD-quality video on your own big screen at home.
» OLED touch screen. Allows you to easily flip through music, movies and other content. The 3.3-inch glass screen and 16:9 widescreen format display (480×272 resolution) offer a premium viewing experience.
» Built-in Wi-Fi. Allows for browsing, streaming or downloading new music from Zune Marketplace.
» Internet browser. Full-screen Web browsing, optimized for the multi-touch screen with zoom-in and zoom-out gestures.
» Accessories, at home and on the road. Zune HD and AV Dock charges and syncs players while playing supported 720p HD videos on HDTVs. Play HD Radio, music and podcasts from your Zune HD device through your car stereo using the Zune Premium Car Pack.
» NVIDIA Tegra chip ultra low-power HD processor.
Microsoft's Zune HD 16GB will cost $219.99 and the 32GB will set you back $289.99. More information on the Microsoft Zune HD.