Native Instruments Introduces Kontakt Player
Native Instruments has introduced Kontakt Player, a free software instrument based on the Kontakt 3 sampler. It provides universal playback functionality for the range of available Kontakt libraries, and is also the basis for a new category of "Kontakt-Powered" instruments.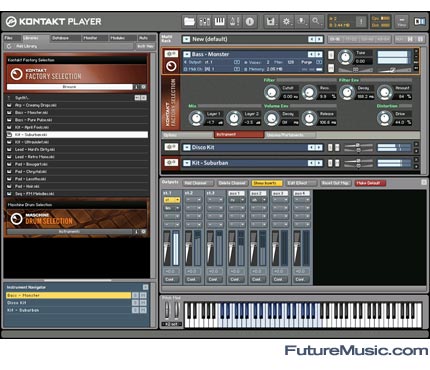 With its arsenal of third-party libraries that take advantage of its advanced soundshaping and scripting functionality, Kontakt has become the essential instrument platform on the market. The
new Kontakt Player is the central instrument to utilize all Kontakt-based sound material in an efficient and convenient way, both in studio and live performance environments. It accommodates all regular
Kontakt-format libraries as well as all generations of third-party Kontakt Player instruments.
The new Kontakt Player is based on the latest Kontakt 3.5 engine, and utilizes all its technological achievements including 64-bit support, extended memory addressing, advanced DFD streaming, true multiprocessor support, and more. It provides comprehensive playback functionality with full Universal Import and convenient sound manipulation via the Performance View panels, and only omits the editing features of the full-featured Kontakt 3.5 version. All sound libraries are managed
in a convenient graphical library browser.
Kontakt Player also establishes the basis for a new range of self-powered sample-based instruments, which will be available for download purchase directly from Native Instruments. This line of Kontakt-Powered instruments debuts with the new Maschine Drum Selection and with Evolve Mutations. The launch of Kontakt Player is also complemented with the free Kontakt Factory Selection, a studio-grade sound arsenal with 50 instruments taken from the Kontakt 3 library, available for download on the NI website.
Native Instruments Kontakt Player is free and available now for download. More information on Native Instruments Kontakt Player.