Samson Debuts Zoom Q3 Video Recorder With True Stereo Sound, Poor Video
Samson has debuted the Q3, a new ultra-compact video recorder with true stereo sound. We want to jump up and down and tell you how much Samson has just nailed one of the biggest problems with these compact video camera segment spearheaded by Flip, but we just can't. Why?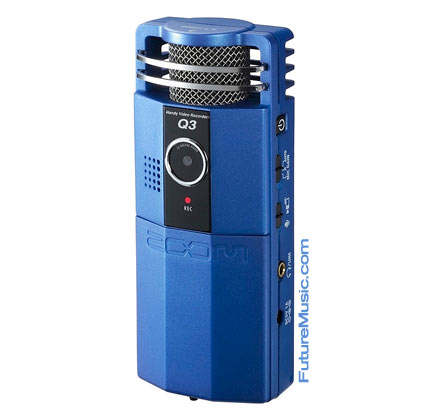 Well Samson made the fatal error of launching a compact video camera in 2009 with video resolution from 1999. Why would you launch a new compact video recorder in 2009 with a claimed awesome sound reproduction and super crappy video? Probably because Samson wanted to hit a certain price point, but they missed the whole point.
A Q3 with kick-ass sound and HD video would have said to the world: we've arrived with a big S on our shirts, not we've arrived on a gurney.
Features:
» Built-in stereo condenser microphones with X/Y configuration for true stereo imaging
» Accepts up to a 32GB SDHC card for 16 hours of recording time
» Large 2.4″ LCD display with a resolution of 320 x 240
» Video resolution of 640 x 480 at 30 frames/sec
» Video Format: MPEG-4 SP
» NTSC / PAL TV output
» Optics Lens Type: Fixed Focus (0.8m to infinity)
» Audio formats with video include 44.1/48kHz 16/24-bit Linear PCM WAV or MP3 up to 320kbps
» Audio only formats include 96kHz 16/24-bit Linear PCM WAV
» Auto Record Level automatically adjusts audio levels during recordings
» Uses two standard AA batteries or NiMH rechargeable batteries
» USB 2.0 with built-in cable
» Windows and Mac OS compatible
» Built-in speaker and tripod mount
» Includes on-board editing software, YouTube uploader software, Apple Quicktime, TV cable, softcase, windscreen, 2GB SD card, two AA Batteries
The Future: Hopefully, Samson will come to their senses and launch a Q4 in the near future with HD video, since this product will be DOA.
No pricing or availability has been announced. More information on Samson's Zoom Q3.