Native Instruments Announces AUDIO 2 DJ – DJ Audio Interface
Native Instruments has premiered the AUDIO 2 DJ, a small USB audio interface for DJs. Delivering the exact same audio quality and performance as the AUDIO 8 DJ and AUDIO 4 DJ interfaces, the AUDIO 2 DJ offers users of TRAKTOR and other DJ software a unique new balance of quality, size and price.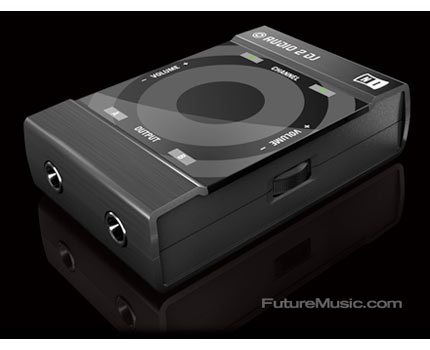 With a footprint no larger than a deck of cards, the bus-powered AUDIO 2 DJ literally fits in a pocket. At the same time, it can accommodate most club systems due to its 24bit/96kHz Cirrus Logic converters and its special high-power output amplifiers capable of delivering a +9.7dBu audio signal. Robust low-latency drivers for Windows and Mac OS X enable the responsiveness that DJs need for tight mixing.
The dual stereo outputs of the AUDIO 2 DJ provide the necessary connectivity to route two decks separately into an external DJ mixer, or to output independent master and cue signals when mixing in software. Two included RCA break-out cables make set-up fast and convenient, making AUDIO 2 DJ the ideal audio interface for travelling DJs who don't want to compromise on performance and quality.
Native Instruments' AUDIO 2 DJ will be available in September 2009 for of $119 / €99. More information on the Native Instruments AUDIO 2 DJ.