Numark Unveils CD In A Box – Complete CD DJ System
Numark has announced the CD DJ IN A BOX – (Not to be confused with this Justin Timberlake ditty —Ed.) – an all in one CD DJ system.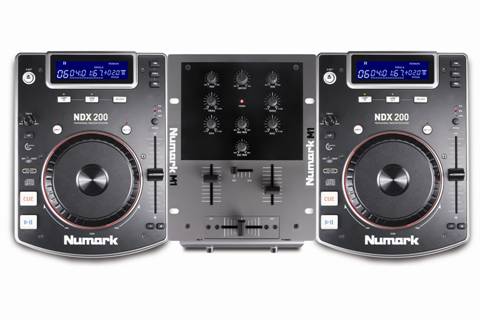 CD DJ IN A BOX contains two Numark NDX200 scratch CD players, an M1a two-channel DJ mixer, headphones and all necessary connection cables. NDX200 is a scratch CD player with a solid build and a large scratch wheel. Numark's Anti-Shock buffered skip-protection technology keeps music playing even when vibrations might cause other players to skip. NDX200 features seamless looping for creating and integrating loops in instant remixes.
CD DJ IN A BOX's mixer has all the essentials DJs expect, such as two input channels, main and headphone outputs, mic input and smooth faders. Whether a DJ is an experienced veteran or just starting out, CD DJ IN A BOX gives them everything they need to perform with CDs and CD-Rs.
Numark's CD DJ IN A BOX will be available from DJ and professional audio retailers in the Fall of 2009. More information on the Numark CD In A Box.