Beat Kangz Announce Ship Date For Beat Thang – Announce iPhone App & Production Software
Beat Kangz Electronics has announced a shipping date for their independently-manufacturered Beat Thang, MPC-like, Hip-Hip production center. They also announced that they have developed a new music production system and a virtual software package for music lovers and beat makers, which will be closely integrated.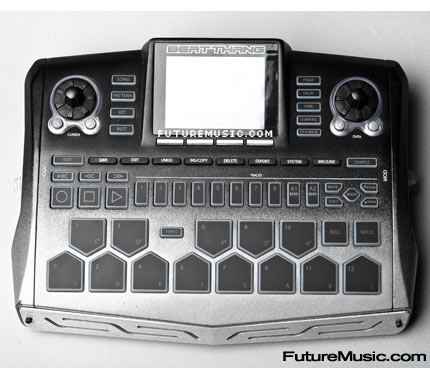 The Nashville-based independently owned company has created The Beat Thang mobile music production unit and The Beat Thang Virtual software application with a unique set of features designed to fit the needs of the urban music community.
Packed with over 3000 brand new sounds, these products integrate fully functioning Digital FX, a 16-track MIDI sequencer, sampling and waveform editing. Designed with the musician's ear in mind, the products are loaded with live bass, strings, synthesizers, Latin and African percussion, electric guitar as well as popular chopped and screwed effects.
Flexible and user-friendly, The Beat Thang touts a provocative, light-weight portable design and a rechargeable lithium ion battery with up to a claimed six hours of playing time. The Beat Thang Virtual software application can be loaded onto a PC or Intel-based Mac.
The Beat Thang mobile music production unit and The Beat Thang Virtual software application will be featured at the Summer NAMM convention July 17-19 in Nashville.
The Beat Kangz first design concept, the acclaimed Zoom SB-246 Streetboxx released in 2006, has been a trusted favorite of underground and major label artists, producers, and deejays worldwide. Equally impressed with the Streetboxx was legendary production guru and former Live Nation Recordings head Bob Ezrin. After a meeting with the owners, Ezrin found the revolutionary idea of a mobile music production unit and virtual software application, created by an African American company, and owned by talented musicians to be a movement he could support.
"As musicians, they know what they need to make their music. What they have done with this new product is far more profound than what any technologist can do. And when musicians design an instrument to be responsive to their own artistic and technical needs, you can expect it to be practical as well as innovative," said Ezrin, co-founder of Nashville-based artist development company Bigger Picture Group and producer of both Jay-Z's 2004 film documentary "Fade To Black" and Pink Floyd's legendary album The Wall. "Putting so much horsepower into the hands of young music makers is bound to produce groundbreaking results," declared Ezrin, who is now a partner in the company.
Additionally, the company enlisted Commissioner Gordon, a music engineer who has mixed for artists like Kanye West, The Roots, 50-Cent and KRS-ONE, to mix the final sounds for the The Playa Thang, a playback application for the iPhone and iPod Touch platforms featuring 20 production ready Beat Kangz beats.
The Beat Kangz are also putting the finishing touches on The Playa Thang, an iPhone app. By July 17, The Beat Thang Virtual software system $149.00 will be available for purchase on the company's website and The Beat Thang mobile music production unit $999.00 will be available for pre-order to ship in October.
Beat Kangz