Best Service Unveils Titan – Massive Sample-Based Soft Synth
Best Service has unveiled Titan, a huge sample-based soft synth with a claimed library of over 200 synthesizers. Titam claims the development and the sampling of this library was 10 Years in the making with over 5500 multisamples of the best sounds from 200 classic Analog Synthesizers and Modular Systems. The breadth of synths include most of the Digital Synths & Workstations of the 80s and 90s, but also the newest virtual instruments and current synths all in one massive plug-in. (Can you imagine wading through the presets for this synth? Scary! —Ed.)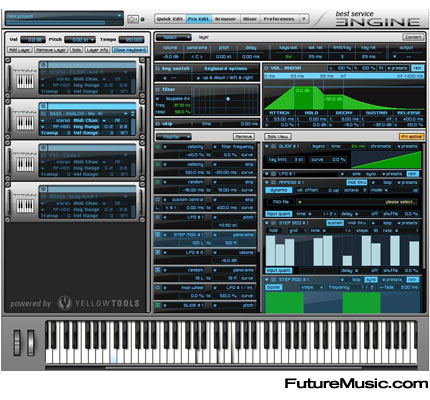 Best claims to have put "a great emphasis on preserving the unique sound character of each instrument. That's why the instruments were partially sampled with their original effects and filters because they can hardly be reproduced in the virtual domain." All instruments were sampled and looped perfectly and inserted into the Best Service ENGINE. ENGINE is based on the sampler Independence Pro and offers all performance features of a contemporary sample engine.
Features:
» superfast Sound Loading – average access and loading of a new sound with all its parameters and effects in less than a second!
» direct stepping through the Soundpool
» Analog Modeling for realistic reproduction of analog synth sounds.
» Solo-Mode, Legato-Mode, Glide and Samplestart Shifting.
» a vast array of parameters, giving unprecedented sound diversity
» QuickEdit Page: an inspiring interface with instant access to all important parameters
» ProEdit Page: offers every possible parameter, an FX-Rack with 46 effects, convolution reverb (including 400 impulse responses) and more…
» flexible MIDI routing
» excellent Arpeggiator incl. Midifile-Player
» Step Sequencer
Library:
» 36 GB sample sound library
» 5500 unique multisamples
» 100,000 samples
» hundreds of additional live recordings
Instruments:
» 2327 Synth Sounds divided into 35 subgroups (Lead-Synths, Bells, Sequences, 5th, 7th, Filter, Accordion, Atmospheric, Basic Waves, Brutal, China & Asia, Chords, Dance, Detuned, Digital, DX & FM, Dramatic, Dreaming, Effects, Harp, Electronica, Gliding, Kraftwerk-Style, Melody, Metallic, Allround, Organic, Phasing, Power, Ringmodulation, Space & Cosmos, Synthpop, Techno, Unisono, Wavetable)
» 1200 Pads & Atmospheres (divided into 38 subgroups)
» 778 Basses (divided into 39 subgroups)
» 250 Synth-Brass & Real Brass Sounds
» 100 Guitars
» 200 Organs (divided into 11 subgroups)
» 161 Choirs & Voices
» 227 Pianos
» hundreds of effect-sounds
» Bonus-Bank: 170 original vintage string synths from over 20 different original instruments
Best Service's Titan for Mac and PC costs €249 and will be available on July 15th. More information on Best Service Titan.