VPI Upgrades ScoutMaster Turntable
VPI has upgraded their ScoutMaster turntable to 2.0 status. The ScoutMaster II is essentially two Scout plinths bolted one on top of the other with a solid steel plate sandwiched in between. An Aries platter and bearing assembly, a newly designed 300RPM motor inside an aluminum housing, the new JMW-9T tonearm and a revised tonearm mount complete the package.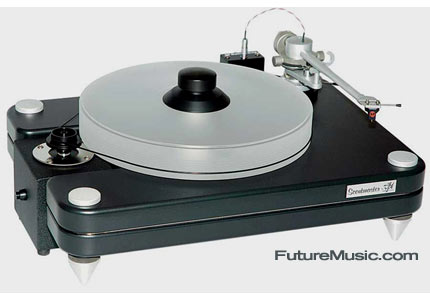 The ScoutMaster II is a full 15 pounds heavier than its little brother, but shares the same compact 19″x14″ footprint. This is the perfect table for someone who wants greater performance than the Scout offers, but isn't ready for the commitment of an Aries table. Once again, VPI sets the standard for price-to-performance ratio.
The JMW-9T Standard is an update of the stock tonearm for the Scout. A unipivot design, the JMW-9T Standard's single point of contact causes less friction than standard gimbaled designs. VPI claims the tapered arm tube reduces resonance and standing waves and the internal damping fluid reduces vibration even further.
The JMW-9T Signature is virtually identical to the JMW-9T Standard, but is wired internally with Nordost Valhalla wiring from the cartridge pins all the way through to the cable junction box, with an additional 2.5 grams effective mass for greater cartridge compatibility (including lighter, low compliance cartridges), variable pivot fluid damping and mechanical anti-skate control.
The VPI ScoutMaster II will set you back a mere $2600. Too bad they haven't spent any of their profits on their pathetic website. More information about the VPI ScoutMaster II.